Peace in Ukraine Project
What we do > Humanitarian > Our projects > Ukraine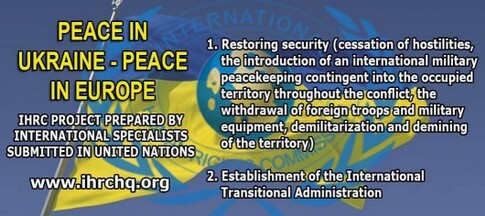 PEACE IN URAINE – PEACE IN EUROPE
a Project by the International Human Rights Commission made under the supervision of International Specialist includes the following;
1.
Restoring security (cessation of hostilities, the introduction of an international military peacekeeping contingent into the occupied territory throughout the conflict, the withdrawal of foreign troops and military equipment, demilitarization and demining of the territory)
2.
Establishment of the International Transitional Administration
3.
Organization of a system of public order support by international law enforcement agencies to ensure the observance of the law and justice in the transitional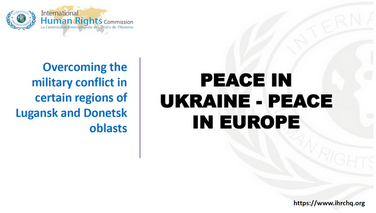 period (including the resolution of the protection of the rights of citizens, the resolution of the issue of work in the territorial management bodies, during the transition period of persons with foreign citizenship)
Functions of Transition International Administration
Security (separation of parties, disarmament, demilitarization, demining, return of population)
Police (creation of temporary police forces and jurisdiction, restoration of the law, amnesty and cooperation with the international terminal.
Political (restoration of civil and political rights and freedoms, creation of a temporary self-government system, preparation and holding of elections.
Social (provision of humanitarian aid, rehabilitation of the education and health system, providing for the provision of medical care and drugs for the treatment of diabetes mellitus, cancer free diseases, provision of pensions and other social benefits, as well as compensation for lost property as a result of occupation)
Economic (rehabilitation of industrial and infrastructural facilities, including through attracting international donors and investors)
Rafał Marcin Wasik
International Human Rights Commission