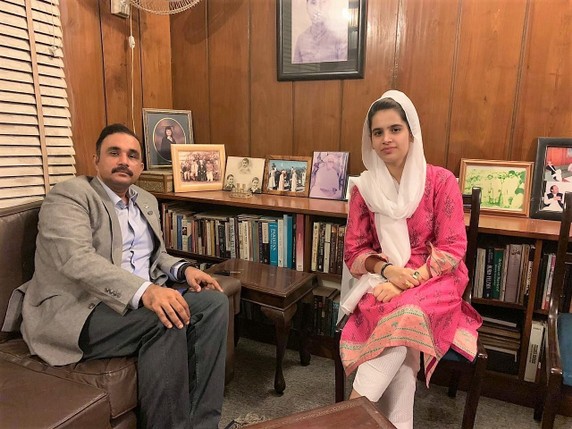 Delays in the judicial system are not due to any 'external factors' but are endemic; pointing fingers at 'external factors' is nothing more than blame-shifting. The most glaring causes include outmoded court procedures and inefficient case management techniques. Then, with a culture, among judges, lawyers, prosecutors and the police that is lackadaisical about procedural rules and timelines, further delays become inevitable.
Pakistan, a nation full of brave daughters, who follow the example of women such as Fatima Ali Jinnah, Begum Rana Liaquat Ali Khan and of course, the slain ex-Prime Minister of Pakistan, Mohtarma Benazir Bhutto. Even though the daughters of this nation might be suppressed by widespread, never-ending patriarchy that runs in our blood, customs, and traditions, this new wave of women waking up in the country to seek justice on all forums is a step in the right direction.
A young energetic & full of courage Advocate
Umme Rubab
is granddaughter of Raees Karamullah Chandio, former chairman of union council Badai, who along with his two sons, Mukhtiar and Qabil, was gunned down in an attack on their house in Ahmed Colony in Mehar town on Jan 17 allegedly at the behest of Nawab Sardar Ahmed Chandio, chieftain of Chandio tribe.
The incident changed Umme Rubab's life altogether and she decided to take her family's fate into her own hands. While the men in her family suggested she stayed silent over all the atrocities they had gone through, so no more casualties come their way, Rubab attended many protests alone, seeking justice, trying to get the word out on what she had been through.
When no one came to her support, she became her own strength and decided to fight influentials from her area. The other day, Rubab was pictured and recorded going to court barefoot, showcasing the lengths she was ready to go to. The video went viral on social media and people from all over the country commended her for her courage, resilience, and guts.
Seeking justice for her family went to court, fighting her own family's case, barefoot, in a bid to launch her protest and show people that she would go to any limit to get a deserving decision. Umme Rubab has been fighting her family's case for 2 years, trying to suppress the mighty Chandio tribe of Sindh who vanquished three members of her family, her grandfather, her father, and her uncle.
Former Chief Justice of Pakistan Mian Saqib Nisar during his tenure has said Umme Rubab Chandio is like his own daughter and he is directing Sindh High Court Chief Justice Ahmed Ali Shaikh to decide the case of murder of her grandfather and uncles within two months. Till date nothing has happened.
Where most Pakistanis never get justice, women have to go the extra mile(s) to seek it, not knowing when (if at all) justice will be delivered. Rabab is a prime example of this. It is indeed inspiring to say the least to see Rabab showing the courage very few display to go out in a predominantly male-occupied space with the hope that our justice system will be able to see and side with justice, and not with the side that holds power and money.
I personally while meeting with Umme Rubab in Karachi & on behalf of Secretary General
International Human Rights Commission
Rafał Marcin Wasik
offered our complete support to her & the untiring efforts for Justice. IHRC believes in supremacy of Law & we have advised Umme Rubab to keep focused & must follow the Law as sooner or later Justice will be done & she will win. IHRC Headquarter in European Union will also raise the same issue on all the relevant platforms for helping Umme Rubab getting justice without further delay. Next month during the Visit of IHRC delegation to Pakistan, we will have a joint Press Conference with Umme Rubab.