WHERE IS PASTOR RAYMOND KOH
Books and others > WHERE IS PASTOR RAYMOND KOH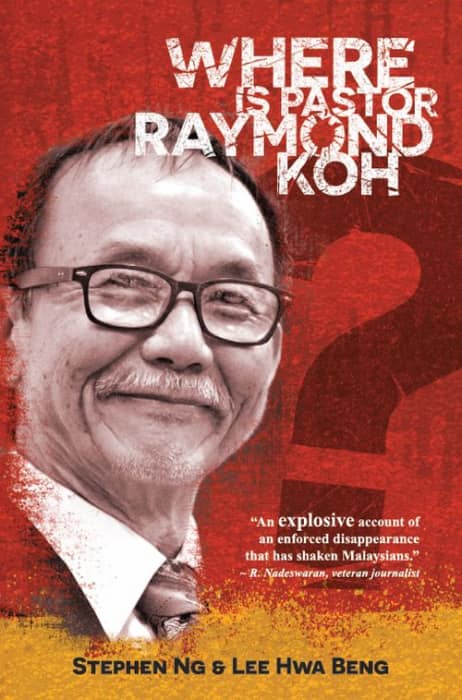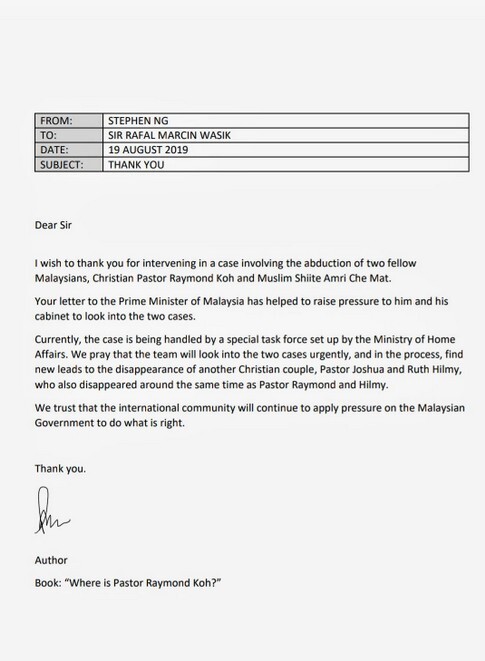 PRESS NOTE FROM THE OFFICE OF THE SECRETARY GENERAL INTERNATIONAL HUMAN RIGHTS COMMISSION: LETTER OF THANK YOU FROM AUTHOR OF BOOK "WHERE IS PASTOR RAYMOND KOH".
Under the visionary leadership of Secretary General Sir

Rafał Marcin Wasik

, International Human Rights Commission (IHRC) is working to strengthen & support all Nations capacity to engage in sustainable development through educational access, relief programs, ecological & bioethical reflections & actions, while taking in to consideration the traditional, social & cultural values of each Nation. Promoting Human Rights Peace, Gender Equality, Health, Economic development, awareness regarding the rights of women, children & youth in developing nations & where ever needed.

Vide letter dated May 9, 2019 Secretary General IHRC Sir Rafal Marcin Wasik to YAB Tun Dr. Mahathir bin Mohamad Prime Minister of Malaysia, regarding the Enforced Disappearances of Amri Che Mat and Pastor Raymond Koh stated that, We believe, under your leadership, we will see a final closure to the two cases of enforced disappearances of Amri Che Mat and Pastor Raymond Koh, which the panel of the Human Rights Commission (SUHAKAM) public inquiry had unanimously agreed that "on a balance of probabilities, (they were) abducted by State agents namely, the Special Branch, Bukit Aman, Kuala Lumpur." He further added that the international community expects the Malaysian government to be truly committed to uphold the rights of its citizens. Malaysia's reputation is at stake if your government does not give due attention to bringing the perpetrators of this crime to justice.
In his letter dated May 9, 2019 Sir Rafal Marcin Wasik also mentioned the content of letter dated May 5, 2019 by by the Human Rights Watch (HRW) to the Prime Minister of Malaysia. Sir Rafal Marcin demanded with great urgency the need for an independent high-level committee to probe into these two cases, leaving no stones unturned in the course of uncovering the motives of the enforced disappearances.
International Human Rights Commission is the official Patron of the Book ""Where is Pastor Raymond Koh?" by Author Stephen NG. The book is an attempt "to piece together the events that took place during and after the abduction of Pastor Raymond Koh Keng Joo, so that there is a complete record of this blight that should trouble every right- thinking member of our society."
Whether it is in Malaysia, or in any part of the world, human rights abuses are a serious crime against humanity that must be resisted at all cost. In many countries, the state apparatus has been used – or abused, to be precise – to achieve certain personal or political agenda. The case of Pastor Raymond Koh, as outlined in the book, will hopefully bring every leader in the world together to discuss the tragedy of "enforced disappearances". Pastor Raymond, a Christian pastor who worked hard to help the marginalised B40 community was accused of proselytising the Muslims. He was among three others who disappeared without a trace.
Today the Author of the Book "Where is Pastor Raymond Koh?" Stephen NG has send an official acknowledgment to the Secretary General IHRC Sir Rafal Marcin Wasik Thanking him &

International Human Rights Commission

for intervening in a case & for writing a letter to the Prime Minister of Malaysia for immediate actions.
IHRC will continue raising such type of issues where HUMAN RIGHTS are violated & will keep its support & pressure on the Malaysian Government to do what is right. Team IHRC & its management must thank Author STEPHEN NG for appreciating IHRC & its initiative for the supremacy of Humanity & Human Rights.
Issued by:
Mohsin Durrani
Regional Head Asia Pacific Region
International Human Rights Commission