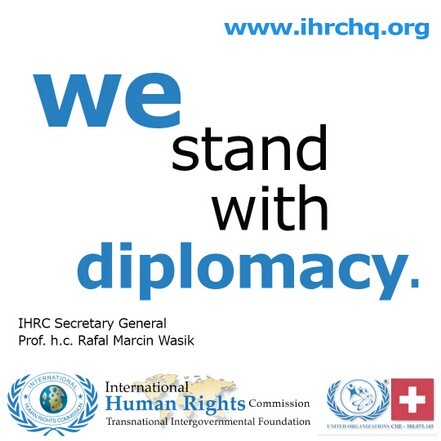 The core mission of the
International Human Rights Commission (IHRC)
is to advance and safeguard human rights, foster diplomatic collaboration, and facilitate humanitarian initiatives on a global scale. Anchored in the principles enshrined within the Charter of the United Nations, the Universal Declaration of Human Rights, and the European Convention on Human Rights, IHRC is dedicated to upholding the dignity of individuals, promoting intergovernmental dialogue, and championing equality and justice.
Our objectives encompass a range of vital activities, including:
Elevating information dissemination within public institutions.
Orchestrating and supporting impartial observation missions worldwide.
Resolutely defending the sanctity of life and the integrity of human rights.
Cultivating a platform for constructive intergovernmental communication.
Encouraging proactive involvement in governmental initiatives and diplomatic undertakings.
Underpinned by these ideals, IHRC undertakes a spectrum of purposeful endeavors:
Strategizing and executing specialized, peacekeeping, and diplomatic missions.
Establishing an IHRC diplomatic corps, fostering effective representation and support.
Validating travel credentials for IHRC diplomatic mission members, compliant with international norms.
Bestowing IHRC diplomatic corps insignia for accredited diplomatic mission vehicles, as well as the respective diplomatic passports.
Coordinating essential humanitarian and developmental aid, both internationally and domestically.
Extending aid and advocacy to marginalized, politically persecuted, and oppressed individuals and communities.
Assisting local governing bodies and grassroots organizations, both overseas and within Switzerland.
Championing the rights and well-being of minority groups.
Offering comprehensive social counseling services, accessible globally.
Spearheading educational campaigns to augment awareness and knowledge.
Engaging in voluntary pursuits for positive impact, both at home and abroad.
Curating cultural and athletic events that foster mutual understanding and collaboration.
Undertaking meticulous observation and evaluation of democratic processes, particularly electoral proceedings, worldwide.
Ensuring the integrity of referendums through oversight and assessment.
Combatting human trafficking with targeted measures.
Thwarting illicit child adoption through stringent protocols.
Pioneering search and recovery operations for individuals, especially children, affected by conflicts.
Financially, IHRC is empowered to provide funding, in the form of cash credits and loans, to individuals and entities that align with its noble objectives.
IHRC's global engagement is a testament to its dedication to the overarching mission, with all proceeds and capital meticulously directed towards the realization of the stipulated goals. In essence, IHRC operates as a non-profit entity, steadfastly committed to the cause it champions
.