Apolitical organization - IHRC
Press center > Secretary General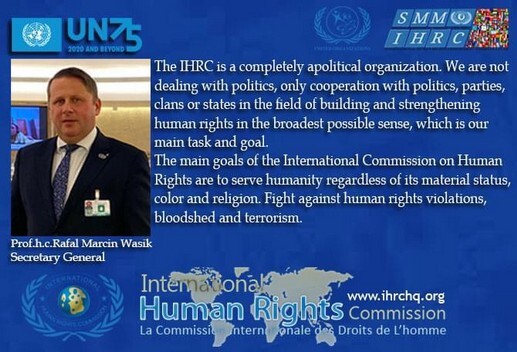 The IHRC is a completely apolitical organization.
We are not dealing with politics, only cooperation with politics, parties, clans or states in the field of building and strengthening human rights in the broadest possible sense, which is our main task and goal.
The main goals of the International
Human Rights
Commission on are to serve humanity regardless of its material status, colour and religion. Fight against human rights violations, bloodshed and terrorism.
We operated on the international scene on 5 continents for many years, and we realize that the world is not perfect. We would also like to open representation in countries, where a good solution to problems is being sought, such as the issue of migration. Our experience gained through our programs can help your fight on the Platforms of the European Union.
We have offices around the world which include Europe, Middle East , Africa and America. The diplomatic missions of the IHRC are to support and develop international information and organizational activities, as well as through active participation in news around the world, supporting communication platforms between governments, government programs and diplomatic missions as well as participation in their creation.
Rafal Marcin Wasik
Secretary General
International Human Rights Commission