IHRC Supports School Children in Sri Lanka's Educational Scholarship Entrance Examination
What we do > Actions > Education > Sri Lanka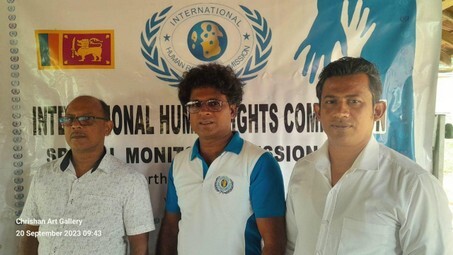 IHRC Supports School Children in Sri Lanka's Educational Scholarship Entrance Examination
As part of the voluntary support program of the Special Monitoring Mission of the International Human Rights Commission (IHRC SMM), on September 20, 2023, the Officials of the Special Monitoring Mission in Sri Lanka organized a program to provide knowledge to school students for the Matriculation Bar Exam.
Mr. Satyavel Babudaran, the Sri Lankan National Volunteers Coordinator (NVC) of the
International Human Rights Commission in Sri Lanka, alongside Dr. Chrishantha Dissanayake, Hemantha Witharana, Dhammika Sisira Kumara, Nalin Darshana Mallavarachchi, Amaradasa Dilankarachchi, Sadeva Amaradasa participated in this event.
Meanwhile, Mr. Harrison Somesiri and Mr. Udara Ratnayake urged the children to focus on education and avoid anti-social behavior.
The seminar was held at Giri/Labbala Maha Vidyalaya in Giriulla Education Zone in North West Province of Sri Lanka and all the children of six schools in Giriulla Education Zone were given the necessary knowledge with the contribution of Sri Lanka's expert resource persons.
The school students were given the required sets of educational question papers, and the types of food required on that day.
---

Reported by:
Dr. Chrishantha Dissanayake.
---

Editorial:
Fidelis Onakpoma
Editor-in-Chief for the International Human Rights Commission IHRC
October 3, 2023