IHRC: Crime prevention in Nigeria
What we do > Actions > Crime Prevention Education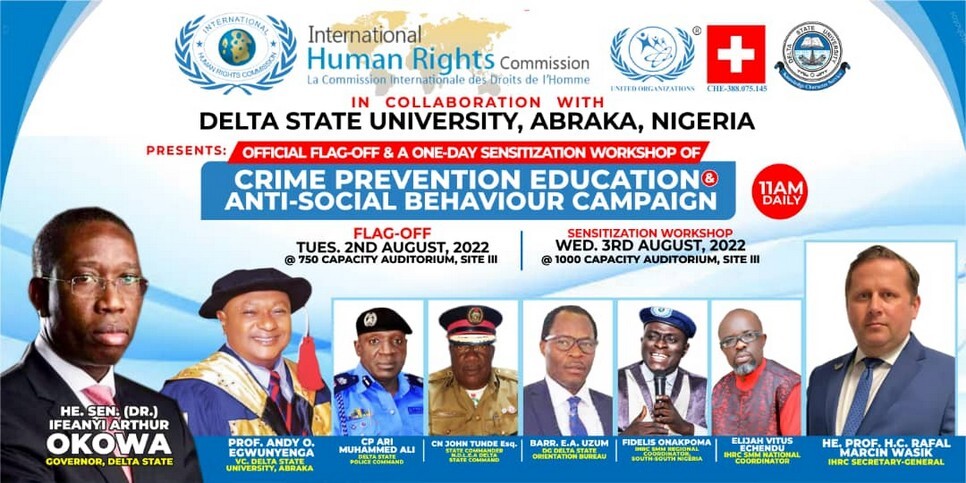 IHRC ORGANIZES CRIME PREVENTION EDUCATION AND ANTI-SOCIAL BEHAVIOR CAMPAIGN AT DELSU ABRAKA-NIGERIA, ON 2ND, AND 3RD AUGUST 2022
.
The International Human Rights Commission (IHRC) is set to organize a one-day sensitization workshop on crime prevention and anti-social behavior campaign preceded by an official flag-off at Delta State University, Abraka, Nigeria.
The affirmation was contained in a statement issued and signed by the Secretary-General International Human Rights Commission, Prof. h.c. Rafal Marcin Wasik on Friday 29th July 2022 at the World headquarters in Switzerland.
The Secretary-General disclosed that the goal of the project is a planned effort that seeks to reduce the risk of crime occurrence and their harmful effects on individuals, and society; providing guidelines for crime prevention and anti-social behaviors by creating distinct campaigns that educate young people and instill moral values.
He emphasized the certain objectives that motivated the conception of the project as:
-Developing and resourcing national/state plans and policies to address factors that promote criminal activities and proffering a lasting remedy.
Break the culture of silence and increase the level of collective participation in curtailing crimes and conflict resolutions.



Increase awareness of these issues with the use of the observatory platform.



Facilitate and support opportunities for crime prevention and other associated vices commonly found among young people.



To abolish the several dangerous assumptions about the role, position, and contribution of youths seen as potentially dangerous 'subjects' and policy approaches often regard them as a problem.



To develop and build collaboration among stakeholders to ensure the culture of peace and lawfulness is possibly attained without restrictions.



The Secretary-General, however, decried the quagmire situation in Nigeria and Tertiary institutions and communities sustained by crime prevalences, stressing that citizens of the country, particularly youths, are becoming more violent, crime vulnerable, and drug prone. Anti-social behavior produces social harm. A person who engages in this behavior, especially if sustained over time, may have reduced lifetime opportunities and this may lead to maladjusted behaviors in adulthood, he hinted.
"In International Human Rights Commission, we recognized that education is a global tool to promote peace, justice, and equality for sustainable development; we understood it has a major role to play in shaping the values of future generations, building collective consciousness, reshaping societal preferences and complementing this with the necessary skills to enact these values."
"The Project will focus on certain aspects of education that are meant to cultivate critical thinking skills among youth and build an awareness that crime is bad and harmful to society. This, in turn, should inspire individuals to abstain from criminal activities and also instill support for societal efforts to prevent and address all types of crime."
He added that teaching on issues related to the United Nations Office On Drugs and Crimes (UNODC)-mandated areas will be facilitated and promoted, including corruption, organized crime, trafficking in persons, smuggling of migrants, terrorism, cybercrime, criminal justice, and arms trafficking, as well as on integrity and ethics.
While appreciating the Vice-Chancellor of the Delta State University Abraka, Prof. Andy Ogochukwu Egwunyenga for the collaboration of the University with the International Human Rights Commission in the implementation of the Project, it is worthy to note that the Delta State University Abraka has taken the lead in this project implementation as the first hosting Tertiary Institution worldwide. He urged the Institution to continue to engage in partnerships with relevant Organizations that will help in achieving sustainable development.
---
Prof. h.c. Rafal Marcin Wasik