IHRC: Educational Support Project
What we do > Actions > Education > Nigeria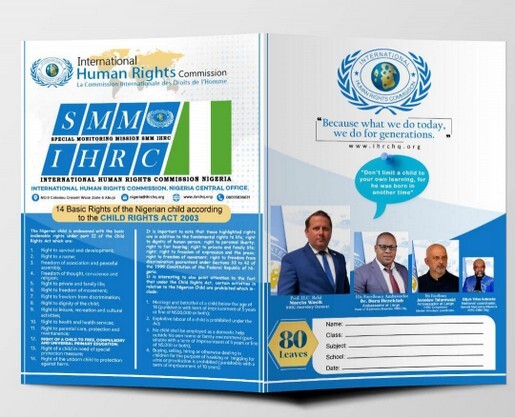 IHRC SMM: Abuja Schools to Benefit from Educational Support Project, Nigeria
---
Education: The National Coordinator Special Monitoring Mission (SMM) of the International Human Rights Commission (IHRC) Nigeria, Comrade Elijah Vitus Echendu reiterates their commitment to supporting education as a fundamental human right.
Elijah in correspondence with the IHRC Media unit said he has credibly secured a partnership with IHRC Diplomatic Mission Nigeria, to commence the free distribution of the Organization notebooks to selected schools in Nigeria, stressing that the exercise shall kick off on Thursday 19th January 2023 at GSS-Government Secondary School, Airport Road Jabi Abuja.
He maintained that the initiative is an appraisal effort of the IHRC Ambassador at Large and Head of Diplomatic Mission Nigeria, Ambassador Dr. Duru Hezekiah; towards upholding the universal declaration of the right to education.
He said subsequently, other States of the federation would be visited for the same purpose and Nigerian schools will continue to benefit from the International Human Rights Commission Projects.
---

Reported
Fidelis Onakpoma
IHRC Editor-in-Chief
18th January 2023