Chad are active for World Clean up Day 2023
What we do > Actions > Ecology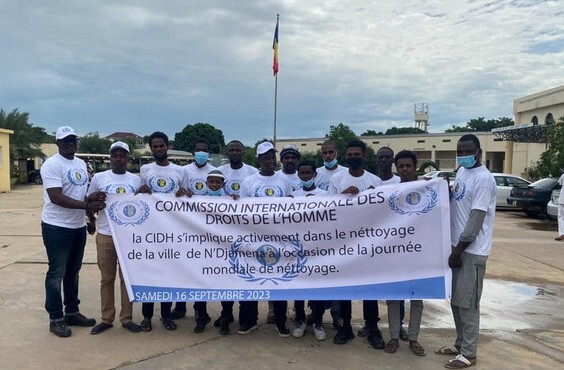 The national volunteers SMM IRHC Chad are active for World Clean up Day 2023.
Inspired by the Anglo-Saxon action "Let's Do It!" Volunteers from the national coordination of the IACHR in CHAD chose the Chad-China
Friendship Hospital to mark World Clean up Day. In the spirit of citizen action, this World Cleanup Day brings together several volunteers to tackle the global problem of waste and build a new and sustainable world, this is how the volunteers dedicated the day September
16, 2023 to make clean the environment of this hospital located in the northern district of Ndjamena. In his message, the national coordinator of the IHRC Chad Mr Zakaria Issa Zakaria therefore
called on all volunteers, whatever their social
and cultural affiliation or their place of residence, to roll up their sleeves and join the government of Chad in order to make clean the environments around them. For Mr Zakaria Issa Zakaria, this cleaning action
will not only strengthen citizen awareness but also give a particular image to the planet, making it much cleaner and more viable.
He adds in this term, our cleaning actions will
not stop here, we will continue in other areas
in order to make the Chadian environment
healthy. Thanks to the support of national volunteers from the International Commission of Human Rights, World Clean up Day was celebrated in a practical and enthusiastic manner in Chad this year. For the national volunteer coordination office
---

Reported
Takendjilembaye Davy
Communication officer of SMM IHRC Chad.