International Human Rights Commission holds Peace-Day in Nigeria
What we do > Actions > UN > Peace Day 2022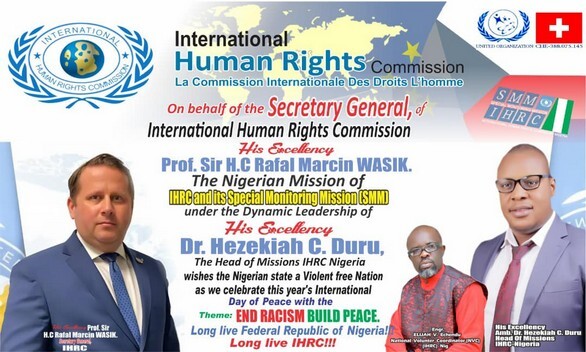 International Human Rights Commission holds Peace-Day in Nigeria
... Urged Federal Government on Mediations for lasting Peace.
The International Day of Peace (or
World Peace Day) celebrated annually on September 21st is devoted to strengthening the ideals of peace, both within and among all nations and peoples. In Nigeria, the International Human Rights Commission (IHRC) has used the medium to remind people of what they can do to live in peace at a time when war and violence often monopolize our news cycles.
While addressing the press, the Ambassador at Large and Head of Diplomatic Mission in Nigeria, Ambassador Dr. Duru Hezekiah decried the banditry, killings, kidnapping, and bad economy faced by Nigerians, urging President Muhammadu Buhari's led administration to embark on mediations and dialogues with agitators and bandits for peace to reign in Nigeria.
Racism is everywhere, he said. He maintained that acts of violence and discrimination based on race, ethnicity, immigration status, and religion are increasingly terrorizing the world, particularly the African Communities, and the need for government leaders across the world to address the root causes cannot be overstated.
At the International Human Rights Commission, we uphold diplomatic approaches and mediate between people and conflicts as a way of finding a deserving resolution to achieving sustainable peace amidst crises. "We don't believe in protest or crisis. We believe in negotiations and dialogue. So our governments should as a matter of urgency, formulate a policy and strategy that builds youths inclusion and co-existence between races, religion or culture", he hinted.
The event featured an official hand-over by the outgoing Ambassador at Large Dr. Friday Sani to the incumbent Ambassador at Large and Head of Diplomatic Mission in Nigeria, Dr. Duru Hezekiah.
Zonal Volunteers Coordinators of the Special Monitoring Mission International Human Rights Commission in Nigeria led by Elijah Echendu Vitus attended the event, as well as admonished by the Head of Mission on the need to collectively build peace, and unity as a solidarity effort.
---

Reported:
Fidelis Onakpoma
IHRC Editor-in-Chief for Africa Countries