Human Security
Press center > Secretary General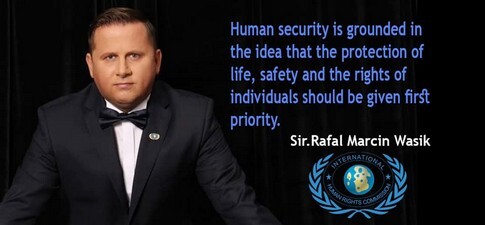 Human Security is grounded in the idea -
Secretary General IHRC
Rafal Marcin Wasik
We have to work together that is the key to preventing crises and making the world more resilient for current and future generations. Humanity cannot successfully deal with the multiplicity of challenges we face either sequentially or in isolation.
The seeds of humanity are sown when you are a child. Though, it's never too late to realize. People roaming in luxury cars and spending a fortune for
nothing but, momentary pleasures in life.
At the same time, there are people who had spent their life for the well being of the underprivileged.
The satisfaction of helping someone in need is something you cannot purchase with your wealth. The future is in the hands of our children. We have to inculcate teachings in our children so that they grow up with faith in humanity.
The world has seen enough wars and unrest. The implications of the World Wars are still prevalent and people are struggling hard to overcome it. Every day, shocking and disturbing pictures surface on the internet. But, you must realize this is just a few drops in the ocean. It doesn't make the ocean dirty. That's why; we should not lose faith in humanity.
Spreading humanity is not a easy way it is very difficult.Humility is such a thing you cannot teach anybody it is the feeling it is a feeling towards underprivileged people if they don't get any time to look up on the problem of poor people & diseased people.

Sir.Rafal Marcin Wasik
International Human Rights Commission