Transitional Presentation
Monitoring > Africa > Chad 2021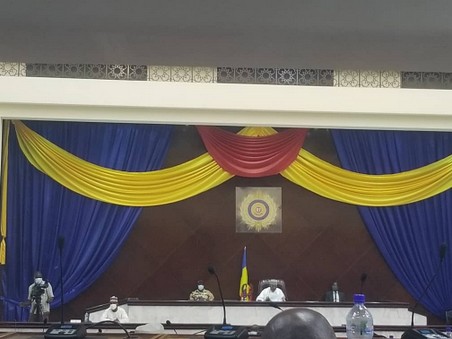 IHRC DIPLOMATIC INTERVENTION FOR RESTORING PEACE AND SECURITY IN CHAD REPUBLIC.
...Attends Official Transitional Presentation of Government's Programmes to the National Assembly.
---
Peace Ambassador to the International Human Rights Commission for Central Africa, His Excellency Hiroua Goare Bienvenu alongside with
National Coordinator of Chad Mr. Kemba Médard Ousmane and Official Volunteer Soumaine Bachir had on 14th May 2021 carried out an observation mission at the Palace of Democracy in Chad (National Assembly), to attend the presentation of the transitional government's programmes to the National Assembly.
The transitional program is a plenary session observed in Chad for the official presentation of the government's programmes to the National Assembly.
At the session, the Prime Minister, Mr. Pahimi Padacke Albert presented to the deputies the political programmes of his government for validation as required by democratic and political principles.
Thus, in his introductory remarks, the Prime Minister reminded the elected representatives in the event of the emergency faced by the country over the past months hence the establishment of this transitional government is necessary for building back a better Nation.
He did not fail to recall the heavy task assigned to him by the transitional military council. It is precisely in this context that a fourteen (14) page programme articulated around nine (09) points were read.
Generally speaking, the political program is hinged on points such as the continuity of the state, and the organization of free and fair elections to proffer solutions to the challenges of insecurity, safeguarding national unity and the rule of law, the establishment and preservation of peace.
To achieve its goal, concrete actions were planned by the transitional government, namely: the holding of a consultative referendum, the drafting of a new constitution, conducting an election, the improvement of living conditions, the mobilization of the army for national integrity, and national reconciliation.
Most importantly, the fight against terrorism in the region, cross-border crime and extremism, the continuation of the fight against bad governance, nepotism, corruption, access to drinking water and energy, sanitation, support for national education, adult literacy, the revival of the economy, industrialization, and diversification of the economy are its top priorities.
In the light of the above observations and recommendations made by the deputies, some reorganization precise and evidence-based measures will be included as mentioned by the President of the National Assembly, Mr. Haroune Kabadi.
Reported by
NVC/IHRC, CHAD MR. KEMBA MEDARD OUSMANE
- VOLUNTEER Mr. SOUMAINE BACHIR,
- IHRC PEACE AMBASSADOR FOR CENTRAL AFRICA H.E HIROUA GOARE BIENVENU