Violation
Monitoring > Ukraine > Presidental 2019 > First Turn 29.03.19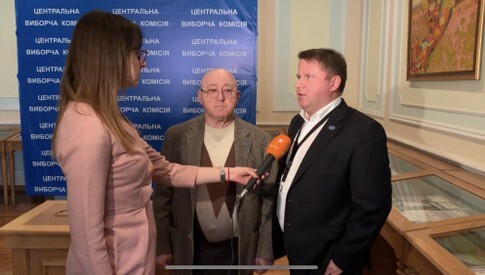 International Human Rights Commission informs TV 4 Kiev and ICTV and Radio Ukraine in Ukraine about violation of the Central Election Commission regulations. The official IHRC Observer Marcell Valas was not allowed to enter the Electoral Point at the Embassy of Ukraine in Prague. The IHRC Commission is very concerned about the possibility of falsifying the vote.
A relevant document was submitted to the Central Election Commission in Ukraine. Reporting the violation is made by the Secretary General
of IHRC Rafal Marcin Wasik
International Human Rights Commission with its dedicated & hardworking TEAM has made a great progress during last few months.
IHRC is still struggling to achieve its goals while strengthening its operations reaching more needy persons as a humanitarian organisation.
Recently we had the honour of being the Official International Observer for the Presidential Election 2019 in Ukraine. More than 967 registered international observers monitor's the vote on March 31, according to the election commission. IHRC was one of the observer who did not record any election violations & everything was in accordance with the law.
Sir.Rafal Marcin Wasik the General Secretary of the International Human Rights Commission & Coordinator of International Observers along with 29 members IHRC team officially monitored the Ukrainian Presidential Elections 2019 along with 12 IHRC members from Ukraine & the rest from Embassy of Ukraine in France, Poland, Belarus, Latvia, Lebanon, USA, Czech Republic, Montenegro, Spain, Austria, Israel, UK, Estonia,Algeria & others. The IHRC Citizens Association in Ukraine has also been accredited as a local social observer for the Presidential Election. . IHRC was one of the observer who did not record any election violations & everything was in accordance with the law.
I would like to thank everyone including all the IHRC observers who were with me in Ukraine & all those who were performing their duties as IHRC official observer in their respective countries has played a vital role in making it successful.
I must also would like to thank our Ambassador at Large & Advisor UN Affairs H.E. Mohammad Mohsin Durrani for his great contributions in promoting IHRC not only on social media with its regular Blogs & Promotional Flyers which has contributed a lot in overall Promotion & existence of IHRC. He also played a vital role in Publishing Updates on IHRC Observer Team through out the Election day.
Once again we have a long way to go with dedication & hard work. I look forward to share some important updates towards spreading our operations in coming
weeks.
General Secretary
International Human Rights Commission