IHRC TEAM
Monitoring > Ukraine > Presidental 2019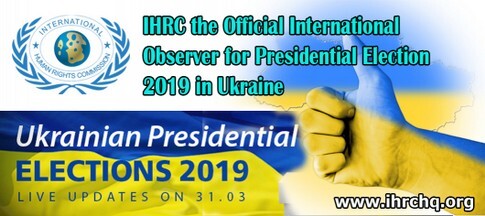 IHRC TEAM IN UKRAINE AS OFFICIAL OBSERVER – PRESIDENTIAL ELECTION 2019
More than 35 million people are eligible to vote in Ukraine's presidential election on March 31 – the first electoral test for President Petro Poroshenko since he came to power in 2014 on a wave of pro-Western protests.
However, several million of the voters in the Russian-annexed Crimea and the rebel-held parts of east Ukraine are unable or unwilling to cast their ballots.
The central election commission has registered a record 44 candidates, although one of them later dropped out.
According to opinion polls, three hopefuls stand a chance to become the war-torn country's sixth president.
They are: Poroshenko, a billionaire with a chocolate empire who is also known as the Chocolate King; opposition leader Yulia Tymoshenko, once a natural-gas magnate who has the nickname Gas Princess; and a comedian, Volodymyr Zelensky, who has no political experience.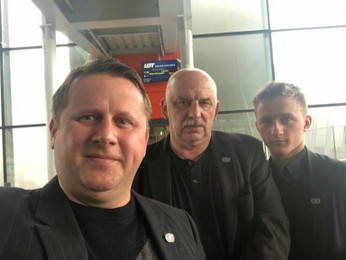 More than 967 registered international observers will monitor the vote on March 31, according to the election commission.
Sir.Rafal Marcin Wasik the General Secretary of the International Human Rights Commission & Coordinator of International Observers along with 29 members IHRC team has arrived in UKRAINE to officially monitor the Ukrainian Presidential Elections 2019. IHRC having team of 12 IHRC members from Ukraine & the rest from Embassy of Ukraine in France, Poland, Belarus, Latvia, Lebanon, USA, Czech Republic, Montenegro, Spain, Austria, Israel, UK, Estonia. Algeria & others. The IHRC Citizens Association in Ukraine has also been accredited as a local social observer for the Presidential Election.
Sir.Rafal Marcin Wasik, is also an originator of conflict resolution in Ukraine. Central Office of the International Human Rights Commission (IHRC) has been officially registered in Ukraine in 2014 in order to create an international network of Human Rights Protection. Since the creation central office of IHRC conducted monitoring of early presidential elections in Ukraine on 25th May 2014, serving as an international observer. Central office IHRC has prepared proposals which has found practical application in the Peace Plan of the President of the Ukraine & Minsk Arrangements of 5th September 2014. In matters of supporting the National strategies against IDP's & development & implementation of legislations on IDP's in the fields of social & economic policy
If none of the candidates secures 50 percent of the vote, a second round of voting will take place on April 21.

H.E Mohsin Durrani
International Human Rights Commission