IHRC-Afghan Refugee
What we do > Actions > Humanitarian relief > USA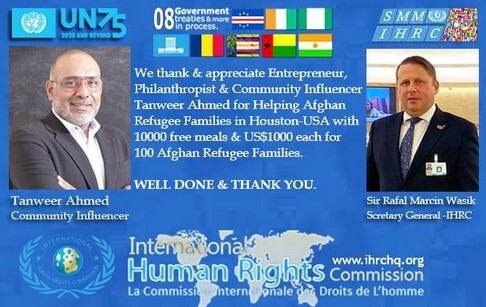 We thank & appreciate Entrepreneur, Philanthropist & Community Influencer
Tanweer Ahmed
for Helping Afghan Refugee Families in Houston-USA with 10000 free meals & US$1000 each for 100 Afghan Refugee Families.
Houston area relief agencies are scrambling to provide food and household items for arriving Afghans as the crisis there deepened with the deadly suicide attack on Thursday outside the Kabul airport. Some local efforts are small and surgical, such as a callout to Afghan-American business owners to provide jobs. Other efforts were large and launched by the top resettlement agencies of Houston welcoming home for refugees from around the globe.
Congresswomen
Sheila Jackson Lee
requested all those who are in restaurant industry to help & support Tanweer Ahmed who announced 10000 Free Meals & cash $1000 each for 100 Refugee Families in Houston. Tanweer Ahmed while addressing the Press Conference thanked Congresswoman Sheila Jackson lee for her support & bringing communities on one platform for supporting humanity as ONE NATION. Tanweer Ahmed also appreciate the sincere & loyal efforts of
Rehan Siddiqi
for arranging the gathering & Press Conference for a CAUSE.
Secretary-General IHRC
Prof. Rafał Marcin Wasik