Learn to Sew: International Human Rights Commission (IHRC) Clothing Sewing Classes
What we do > Actions > Education > Poland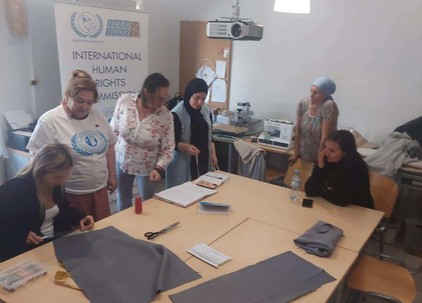 At the beginning of September 2023, the Regional Coordinator of the International Human Rights Commission, Leli Kagermanova, together with IHRC volunteers, thanks to the provision of the premises by the Dialog Foundation from Białystok (Poland), started implementing the announced clothing sewing classes.
Classes are already underway in Białystok, and the organizers plan to conduct classes throughout Poland and also in Europe.
Their goal is to teach how to support all women
who need help by learning the profession of a seamstress. Many women suffer from lack of work due to not knowing the language. As part of the project conducted by SMM IHRC Poland, these women will gain knowledge and the opportunity to work in the clothing sewing industry. This is a real chance to get a job in Europe.
We would like to thank IHRC Secretary General prof.h.c. Rafał Marcin Wasik for helping all those in need around the world. We would also like to thank Mr. Michał Gaweł, President of the Dialog Foundation in Białystok, for providing the premises for women who want to learn sewing.
The organizer of this project and the course leader is Leli Kagermanova, Regional Coordinator of the Special Monitoring Mission of the International Commission on Human Rights.
The action is carried out under the patronage of NSZZ FSG NwOSG
---

Reported:
Natasha Deshieva