Day Against Human Trafficking
Press center > Secretary General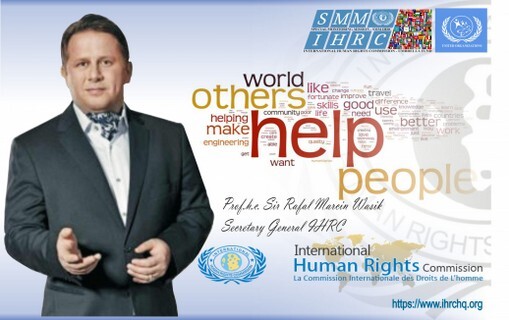 Re: World Day Against Human Trafficking
....IHRC Secretary-General Advocates Against Human Trafficking.
---
...Calls for Re-evaluation of Mechanisms and Fundings Amongst Members States.
Trafficking in persons is a serious crime and a grave violation of human rights. Every year, thousands of men, women, and children fall into the hands of traffickers, in their own countries and abroad. Almost every country in the world is affected by trafficking, whether as a country of origin, transit, or destination for victims.
July 30th was designated by the United Nations General Assembly as a means to combat the issues of human trafficking. The day was declared to raise awareness around the victims of human trafficking. It also helps raise funds for those victims.
The Secretary-General International Human Rights Commission, Prof. h.c. Rafal Marcin Wasik has urged the Members States to re-evaluate the mechanisms and instated fundings and share responsibility in partnership with Organizations to achieve sustainable results in the fight against human trafficking in their respective states.
The affirmation was contained in a statement issued by IHRC Secretary-General, Prof. h.c. Rafal Marcin Wasik in commemoration of 2021 World Day Against Human Trafficking.
The theme for this year's World Day Against Trafficking in Persons is 'Victims' voices Lead the Way.' It highlights the importance of sharing and learning from survivors of human trafficking. The survivors are important factors in the battle against human trafficking.
They have a huge role to play in establishing effective measures to eradicate this crime. They help in identifying and saving victims and supporting them on their way to rehabilitation.
He maintained that the United Nations Convention Against Transitional Organized Crime (UNTOC) and the Protocol there too, assists States in their efforts to implement the Protocol to Prevent, Suppress, and Punish Trafficking in Persons.
"As you may be aware, many victims of human trafficking have had traumatic post-rescue experiences during interviews and legal proceedings. In their attempts to get help, they have experienced ignorance, misunderstanding, victimization, and punishment for offenses their traffickers had them commit", he hinted.
"It is, therefore, necessary for all and sundry, IHRC Members, to implore the opportunities in creating awareness and educating others that trafficking in persons is a crime and grave violations of human rights", Rafal added.
Commending the Nigeria Government, Prof. Rafal averred that the International Human Rights Commission has long signed a protocol agreement with the National Agency Prohibiting Trafficking in Persons (NAPTIP) Nigeria, to strengthen diplomatic interventions in the fight against the global epidemic.
The IHRC Secretary-General further urged the Members States to revisit the funding structure apportioned to curtail this global menace, as existing realities prove too far from normalities.

Reported:
Fidelis Onakpoma,
IHRC Journalist.