India/ World Human Rights Day,2021
What we do > Actions > Human Rights > Human Rights 2021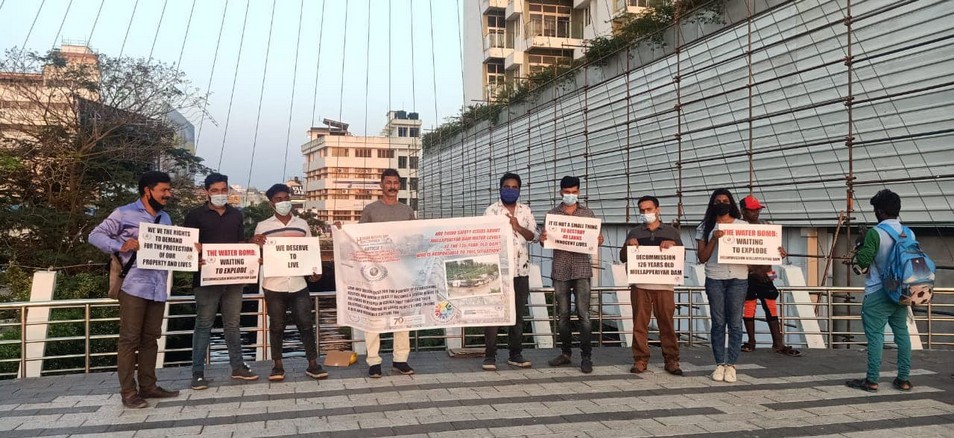 2021 December 10th WORLD CELEBRATED INTERNATIONAL HUMAN RIGHTS DAY!
India, Kerala.
"We are here at Kochi for 3.5 million people could be at risk in Kerala because of 126 YEARS OLD MULLAPERIYAR AGED DAM constructed in 1895 October 10th situated in an extremely fragile and eco sensitive area on the Periyar reservoir Thekkady, Idukki district And the 172 ft height, 1200 ft wider dam is made only with the mixture of Surki, Jaggeri and Lime. Thus it is placed in the eco sensitive area it could be an extremely powerful WATER BOMB at any time that can destroy and washed away 40 lakhs people into the Arabian sea.
"Today and every day, we will continue to work for justice, equality, dignity and human rights for all."
Kerala: Mullaperiyar dam has outlived its life,
pose growing threat: UN report
IDUKKI: A report by United Nations University, the academic and research arm of the UN, has stated that Mullaperiyar dam, situated in a seismically active area, faces the risk of failure.
UN study report said that Mullaperiyar dam is situated in a landslide-prone area
A report titled "Ageing water storage Infrastructure: An emerging global risk", released by United Nations University Institute for Water, Environment and Health, has said that ageing of large dams is an emerging global development issue as they pose threats to human safety and environment. The report said that Mullaperiyar dam, built in 1895, is situated in a landslide-prone area. "If at all any failure occurs in the dam around 3.5 million people will be affected," it said.
By 2050, most people on Earth will live downstream of tens of thousands of large dams built in the 20th century, many of them already operating at or beyond their design life," according to the UN University analysis. The analysis includes dam decommissioning or ageing case studies from the U.S., France, Canada, India, Japan, and Zambia and Zimbabwe.
It said at 50 years, a large concrete dam "would most probably begin to express signs of ageing." Ageing signs include increasing cases of dam failures, progressively increasing costs of dam repair and maintenance, increasing reservoir sedimentation, and loss of a dam's functionality and effectiveness, "strongly interconnected" manifestations, the report said.
In India, there are over 1,115 large dams that will be roughly 50-years-old in 2025, more than 4,250 large dams in the country will be over 50-years-old in 2050 and 64 large dams will be more than 150-years-old in 2050, it said.
"The dam, in a seismically active area, shows significant structural flaws and its management is a contentious issue between Kerala and Tamil Nadu States," it said.
Now, heavy rain in Kerala and Mullaperiyar Dam water level is very high.Raising the issue infront of the world, UN, IHRC we claimed that Tamil Nadu had released water from the dam in the midnight without any warning which had led to flooding in villages downstream. Releasing water at odd hours by Tamilnadu Government without sufficient warning is extremely dangerous deed.
People are living in constant fear as their homes get flooded. They have to leave their homes in a sudden. Children are not able to go school these days as they're unsecured due to such uncertainty. So as both the humans and animals struggle to lead a normal life. And their life is in extreme danger.
So the citizens group Voice of Sinking Kerala (VOSK) came forward to raise voice against this injustice and joined together to conduct protests if that could make any influence in finding a solid solution in Mullapperiyar dam issue in the nearest future. "Justice delayed is justice denied". There's no more time to get postponed to do action against Mullapperiyar issue. Even a small landslide or an earthquake of low magnitude can cause a severe disaster.
Together we can work on the supremacy of Humanity. Human rights are driven by progress on all SDGs & the SDs all driven by advancement on Human Rights. We must treat and respect each human being Equally with out any discrimination.
---

Reported:
Aneesh Mon. S. K
IHRC SMM INDIA REGION
RVC/ID NO.V3171/CZ/EU20