IHRC: INTERNATIONAL DAY OF PEACE, CAMEROON. EVERYONE HAS A ROLE TO PLAY IN FOSTERING PEACE
What we do > Actions > UN > Peace Day 2022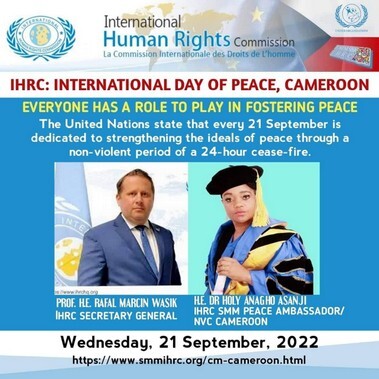 INTERNATIONAL HUMAN COMMISSION (IHRC) CELEBRATES INTERNATIONAL PEACE DAY IN KOUSERRI, THE EXTREME NORTH REGION OF CAMEROON
The International Day of Peace ("Peace Day") is observed around the world each year on 21 September. Established in 1981 by unanimous United Nations resolution 36/37, the General Assembly has declared this as a day devoted to "commemorating and strengthening the ideals of peace both within and among all nations and peoples." Furthering the Day's mission,
the General Assembly augmented the original resolution in 2001, fixing the date on 21 September. Peace Day provides a globally shared date for all humanity to commit to Peace above all differences and to contribute to building a Culture of Peace.
On the 21st of September, 2022, the International Human Rights Commission (IHRC), Special Monitoring Mission (SMM) Cameroon, joint the international community to commemorate the International Day of Peace in Kouserri, a small city situated in the Extreme North Region of Cameroon, right at the border between Cameroon and Chad. To commemorate the day an IHRC team that comprised of H.E. Dr. Holy Anagho, IHRC/SMM Peace Ambassador / National Volunteers Coordinator of Cameroon; H.E. Mr. Bienvenu Goare, IHRC Multinational Volunteers Coordinator / Peace Ambassador and the IHRC security team from its office in Chad visited the Government Technical School Kouserri.
During the visit of the IHRC team, reached out to over 1000 students were reached out to on the importance of peace and the dangers of violence. In her expertise, H.E. Dr. Holy Anagho who is a conflict, gender and human rights lecturer, educated the students on the importance of peace by explaining that peace is the path we take for bringing growth and prosperity to all societies and that without peace, achieving political strength, economic stability and cultural growth will be impossible. She also pointed on the fact that violence has a very negative impact on all societies ranging from death, injury, sexual violence, malnutrition, illness, and disability etc. She concluded with the emphasis on the fact that everyone has a very important role to play in fostering peace.
At the end of the program at Kouserri, team paid a working visit to the IHRC office in Ndjamena, where exchanges were made with the staff in Chad.