IHRC: Medical and Scholarship Project
What we do > Actions > Medical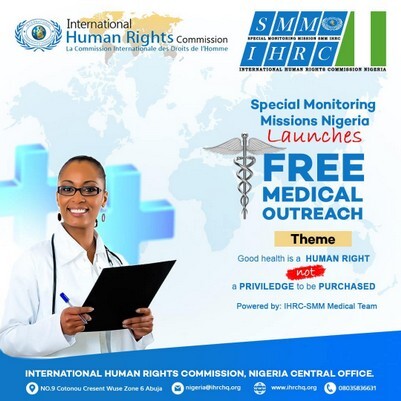 IHRC SMM Unveils Medical and Scholarship Project in Nigeria.
Nigeria: Elijah Vitus Echendu, National Coordinator for the International Human Rights Commission Special Monitoring Mission (IHRC SMM) in Nigeria has asserted that the year 2023 will record milestone achievements of numerous project implementations in Nigeria.
Elijah in a statement by the Commission's Editor-in-Chief Mr. Fidelis Onakpoma said;
" two major projects on medical and education featuring free medical
services and scholarship grants to deserving individuals will commence January 2023 across Nigeria"
.
He added that several capacity-building conferences, humanitarian aid, conflict resolutions, and peace-building programs would be facilitated through the corporate support of the
Head of Diplomatic Mission, H.E. Ambassador (Dr.) Duru Hezekiah.
He further urged SMM Officials to be up and doing and remain dedicated to Organization's activities this year.
Further information shall be communicated in due time.
---

Fidelis Onakpoma