My Passion
Press center > Secretary General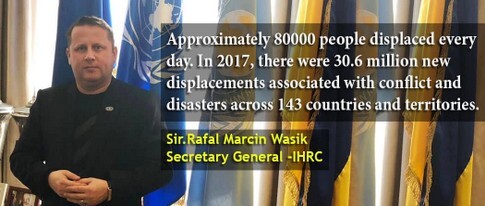 Many people view human rights as a set of moral principles that apply to everyone. Human rights are standards that allow all people to live with dignity, freedom, equality, justice, and peace. Every person has these rights simply because t
hey are human beings. In 2017, there were 30.6 million new displacements associated with conflict and disasters across 143 countries and territories.
Approximately 80000 people displaced every Day. 39% new internal displacement were triggered by Conflicts & 61% by disasters. Syria, the Democratic Republic of the Congo (DRC) and Iraq accounted for more than half of the figure. There are 22.5 million refugees around the world today, and half of them some 11 million are women and girls.

It was in January 2019, when I had my first telecom with the Person who has only one Passion in life & that is to serve the Humanity without any discrimination in color, caste or religion.
The Person who always discuss the issues related to Human Rights & Humanitarian needs in War Zones or Areas affected by Conflicts. We never had a discussion on weather in Poland or in Pakistan, cultural or political activities, he always starts with what to do next, how we move forward & how to expand our operations for reaching more affected persons across the Globe.
Sir.Rafal Marcin Wasik the Secretary General of the International Human Rights Commission the person with the Vision & Courage to bring Peace & Prosperity in the World especially for those who are currently affected & displaced due to the war or conflicts.
Under the visionary leadership of General Secretary Sir.Rafal Marcin Wasik, International Human Rights Commission (IHRC) is working to strengthen & support all Nations capacity to engage in sustainable development through educational access, relief programs, ecological & bioethical reflections & actions, while taking in to consideration the traditional, social & cultural values of each Nation. Promoting Human Rights Peace, Gender Equality, Health, Economic development, awareness regarding the rights of women, children & youth in developing nations & where ever needed.
Rafal Marcin, believes that Human rights are based on the principle of respect for the individual. Their fundamental assumption is that each person is a moral and rational being who deserves to be treated with dignity. They are called human rights because they are universal. Whereas nations or specialized groups enjoy specific rights that apply only to them, human rights are the rights to which everyone is entitled no matter who they are or where they live simply because they are alive.
Currently the TEAM IHRC is working day & night to strengthen the operations of International Human Rights Commission & to reach the maximum number of Humans affected or displaced due the War or Conflicts within their respective Countries.
IHRC is focusing on executing the Project "PEACE IN UKRAINE-PEACE IN EUROPE" & we are in the process getting it endorsed by the UNITED NATIONS. Rafal Marcin, is confident that with the success of PEACE IN UKRAINE project, IHRC will introduce the same Project for the resolution of Kashmir & Palestinian Conflict by bringing Economic Zones in these respective areas.
Issued:
International Human Rights Commission