IHRC Donates to Refugees in Poland
What we do > SMM IHRC > Actions > Europe > Poland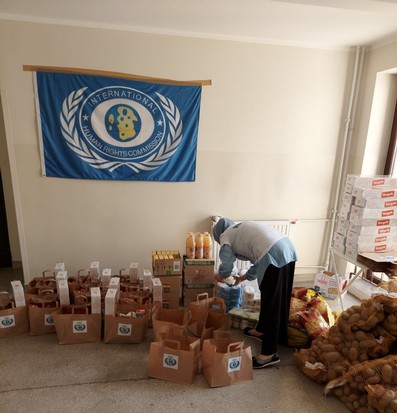 Ramadan: IHRC Donates to Refugees in Poland
Ramadan is a period of fasting reflection, devotion, generosity and sacrifice observed by Muslims around the world. The month of Ramadan is a time for inner reflection, self-discipline and self-improvement.
For Muslims, it's a time for spiritual reflection and growth, to help those in need, and to spend time with loved ones. It's also a time when Muslims around the world fast during daylight hours for the whole month of Ramadan.
On April 29th 2021, Gotarda Street in Warsaw Poland agog for joy as the Special Monitoring Mission of the International Human Rights Commission in Poland donated various products to over 90 families on the occasion of the Muslim holiday of Ramadan.
The initiative took place in 10 Gotarda Street, Warsaw Poland. The refugees living in Warsaw received gifts, which made them very grateful to the volunteers of the commission.
The International Human Rights Commission as an intergovernmental fund, helps many people around the world especially for those in need.
Therefore, taking advantage of the Ramadan holidays, this wonderful campaign was organized for refugees living in Poland.
The organizer and coordinator of the project was RVC SMM IHRC Ms LELI KAGERMANOVA alongside with other SMM IHRC volunteers; Natasha Deshieva,
Anastasiia Rudetska, Nodira Toshewa, and Olena Horb.
Reported:
Lela Kagermanowa
Coordinator of SMM IHRC in Poland
Edited:
Fidelis Onakpoma,
IHRC Journalist.