Police Ghana
Foreign Affairs > Cooperation > Africa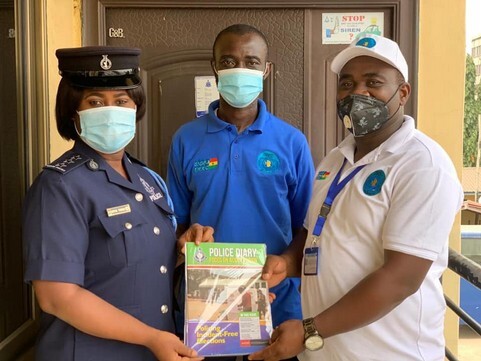 SMM IHRC in Ghana works with the Police to improve and streamline security - Report on Election 2020
The Special Monitoring Mission of the International Human Rights Commission - Ghana on 22nd day of January 2021 was presented with some copies of the Ghana Police Magazine following the commision's feature in it's publication.
D.S.P Mrs. Efia Tenge the Public Relations Officer at the Greater Accra Police Commands office presented the copies of the magazine to the Regional Volunteers Coordinator Amb Ebenezer Essuman on behalf of the Commission in a brief ceremony yesterday.
This year's magazine captured the report by the Commission in last year Ghana's general election in which the police administration and other stake-holders played a very important role before, during and after the 2020 general elections.
Speaking on behalf of the Commission, the Regional Volunteers Coordinator reiterated the commision's readiness and willingness with the full support from the Secretary General " Prof Sir Rafal Wassik Marcin" in helping to uphold and defend the rights of all people which is the core of the modus operandi of the Commission.
Over the years, the International Human Rights Commission has signed M.O.U.s with many state governmental agency's by way of partnership to support those nations with the provision of human resources, Volunteers and basic personal needs.

Issued :
Amb Bernard Kofi Bonarparte
Commissioner & National Volunteers Coordinator
(SMM IHRC- GH)