IHRC: Marks 2022 IWHRD
What we do > Actions > Human Rights > Woman Rights are Human Rights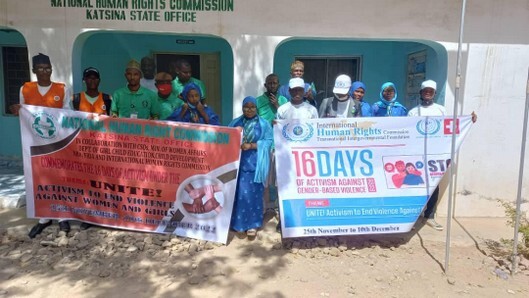 IHRC SMM: IHRC, NHRC, others Marks 2022 IWHRD in Katsina State.
Nigeria: The International Human Rights Commission Special Monitoring Mission (IHRC SMM) jointly
celebrated the 2022 International Women Human Rights Defenders Day with other Human Rights Organizations In Katsina State, Nigeria on 29th November.
According to Kamaluddeen Yahaya, IHRC SMM Zonal Coordinator in Katsina State, said members representing various Human Rights Organizations, participated in an advocacy walk within the Katsina Metropolis.
Among the participating Human Rights Agencies includes, National Human Rights Commission (NHRC), Nigeria Girls Guide Association (NGGA), Katsina Helpers Channel Development Association (KHDCDA) International Human Rights Today Initiatives (IHRTI), to mention but a few.
It could be recalled that the day was set aside by United Nations (UN) to commemorate the work of Women Human Rights Defenders or Women and Girls, who champion Human Rights for all.
At the end of the occasion, the IHRC SMM Coordinator alongside his counterpart of National Human Rights Commission (NHRC) Barr. Adamu Kasim addressed members of the Coalition.
The two Coordinators thanked all participants and expressed appreciation to them for their unflinching support and cooperation towards promoting Humanity in Katsina State in particular and Nigeria in general.
---