About: World Youth Movement
What we do > World Youth Movement

World Youth Movement of the International Human Right Commission Foundation (IHRC)
is a new platform of fundamental human rights of all youth to promote their optimal development, well-being and enhance their participation in every sphere of national development processes and work cooperatively constructively towards the realization through strategies, policy frameworks, programs and projects furthering, civic engagement, youth education, capacity-building by creating new practices that address the critical problems of unemployment, health and wellness, limited opportunities, extremism and social exclusion while building their capabilities of intellectual, leadership development, scientific, innovation, entrepreneurship, media and communication. The World Youth movement is a ongoing project that engaged youth globally through an enriching set-up and allowing them to exchange views of influential figures to support youth across the nations to actualizing their full potential for the right, sustainable development of their communities, countries, and the world, driven by humanity values of cooperation, excellence, unity, Innovation, excellent, diversity and service.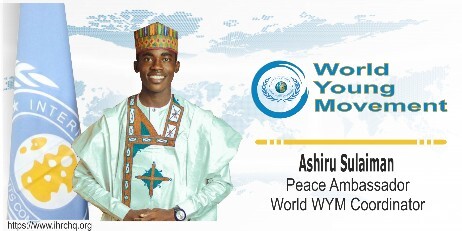 ---
The platform aim to develop creative and dynamic solutions to address every challenge faced by youth and utilize every potential opportunity through the application of a broad spectrum of experiences in developing, applying new ideas and potential solutions.
Structure of the youth Movement:
Commissioner of the Youth Movement.




Country Coordinator of the Youth Movement.




Regional Coordinator of the Youth Movement.



Why World Youth Movement
The World Youth Movement was created as a on ongoing project to provide sustainable training, retraining and extracurricular activism for youth. In this regard, world youth movement categories under four target pillars: Human Rights, climate change, volunteering in society level, civic engagements.
Goals of the World Youth Movement
To provide an appropriate framework which protects the fundamental human rights for youth.
To promote youth optimal development and well-being.
To enhance youth participation in every sphere of national development processes. within range of four cross developmental pillars which are fundamental to enabling youth that transit to self-fulfilled and productive adulthood with opportunities for full, effective and constructive participation, in line with the vision, mission and objectives of International Human Rights Commission.
The world youth movement will invite youth professionals from different field under the umbrella of Youth Movement to ensure the higher maximum impact of youth-focused on the program and activities on the individual of the society.
We are Making changes through:
Education




Capacity-building




Skills development



Note : As a member or coordinators of the World Youth Movement the position is entitled voluntary you are appointed to provide a new solutions to the movement and your societies, we address the multifaceted challenges faced by society that young people can provide solutions (such as access to education, climate change, health, employment and human rights).
Eligibility:
A youth between the 18-24 years, 25 to 30 years also recognize.
Have a positive experience on promoting volunteering education, health, climate change, human rights and unemployment for youth.
Able to demonstrate interest and expertise on youth movement.
Our four pillars:
Human Right




Climate Change




Volunteering




Civic Engagement



The World Youth Movement will be fully advocate to promote voting rights, civil rights, and others right as stated under UN declaration of human Rights. The platform will Provide in-person and online opportunities and solutions for younger generation.
The world youth movement platform will create green spaces to reduce heat waves by planting more trees and Increase climate change education and opportunities for youth.
The world youth movement platform will increase volunteerism at the level of the society thereby ensuring youth inclusion, equal opportunities for the development and against themselves in abuse, violence, intimidation and discrimination.
The World Youth Movement the platform for civic engagement.