Humanity
Press center > Articles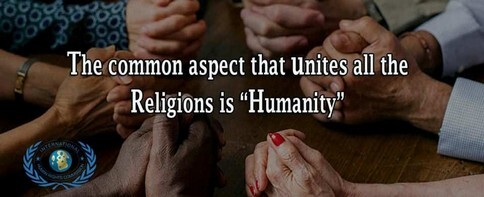 The common aspect that Unites all the Religions
If there's religion without humanity, then the only aim is to pray in front of God. But by including humanity, we can not only implore the God, but also satisfy our heart and build the forts of love and respect in each one's heart.
Nowadays, in the so-called modern world with Human Population exceeding more than 7.7 Billion with a global-hub of more than 20 major religions, humanity's quality appe
ars to be fading away.
We are getting conservative and narrow-minded regularly.
We want to gain respect, cash, and power, but nothing about helping people. We are running away from our originality.
A person can't help being born black, or White, and therefore they shouldn't be treated a certain way. Equal does not mean that we are all the same. Each of us is different in our own special way but we also have the common qualities that make us all humans. So each of us should be treated with respect and dignity and treat others in the same way. No persons should be discriminated against in their sexual and reproductive lives.
Everybody has the right to protection from all forms of violence caused by reason of their race, color, language, sex, religion, political, national or social origins. Having a different belief system doesn't mean they are inferior. We all are Humans and the "borders" and "boundaries" are no more than what we make them. We were all born Equal.
Religion is, in fact, a piece of thinking, a notion or belief system of a group of people who worships their Gods. There are many versions of religion, but despite this, in the whole world, the common aspect that unites all the religions is "humanity". This is what all religions in the world have, whether it's Islam, Christianity Hinduism, Buddhism or whatever it is. The basis of all the religions begins with the basic fact and elementary steps of humanity.
I strongly believe that Every religion tells us about humanity, peace and love that is why no religion is higher than humanity. Humanity is all about Peace, Love & Harmony. Since I am serving the humanity, People displaced due to war or natural disasters, People who are in need of immediate Food Supply or medical aid, I always considered them as Humans. People need to understand that when they will die, they will be reduced to something that will be de composed. Neither the power nor the money will remain with him. People will only remember you with your kind deeds & Work for the Humanity.

Secretary General International Human Rights Commission
Sir Rafal Marcin Wasik