Global Peace Summit
What we do > Actions > Events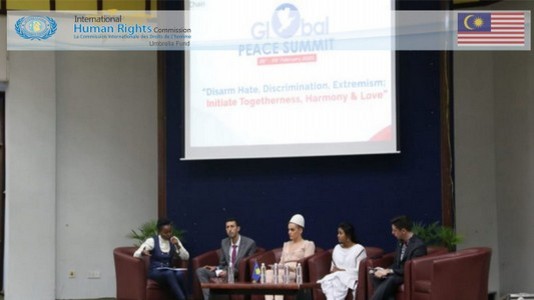 Ambassador Shala in Malaysia: Kosovo is an example of peacebuilding
Elvana Shala
,
Goodwill Ambassador
for Kosovo at the IHRC, is staying in Kuala Lumpur, Malaysia, where the Global Peace Summit is being held, which has gathered over 100 Global Peace Ambassadors, human rights activists, diplomats young people and representatives of various UN agencies from different countries of the world.
She was part of the "Young Diplomats" panel today with representatives of Bangladesh, Palestine and Kenya, who discussed the UN's role in creating world peace, and the importance of maintaining democracy in conflict countries.
In her part of the discussion, Shala has talked about the importance of minimizing prejudice in forming cooperative relations between different states and nations, adding that while there are differences and prejudices between people, states or nations, there can be no cooperative relations .
"Any human nature of prejudice will prevent it from developing good relations, whether it be in nationality, religion or culture. Individuals must stop being prejudiced in politics, diplomacy, culture or any other field in order to succeed in cooperation. How can we achieve minimization of bias? We achieve it only by accepting and respecting the other's way of life, the state, culture or politics it develops ", Shala emphasized.
She also spoke about the role of the UN in creating peace in the world, with a particular emphasis on Kosovo.
"The role of the UN to reduce tensions between conflicting countries is extremely important," he said. Here's a specific example of my state Republic of Kosovo, when faced with the failure of peace negotiations and blocking of multilateral actions through the UN Security Council, the United States launched a campaign to bomb Yugoslavia in cooperation with NATO . At the same time, UN Security Council Resolution 1244 was passed, which formally held Kosovo under the sovereignty of Yugoslavia, but under the international administration of the United Nations, until former Finnish President Martti Ahtisaari sent their representatives. which in 2007 issued the Comprehensive Plan, which provided for supervised independence. Based on this plan and invoking Resolution 1244, the Assembly of Kosovo declared independence on 17 February 2008. This is perhaps one of many examples of the UN's role in reducing tensions between conflicting countries. " she added.
Shala emphasized that as a multiethnic state, Kosovo is an example of peace building and respect for minority communities.\