Delta State UNIVERSITY ABRAKA
What we do > Actions > Crime Prevention Education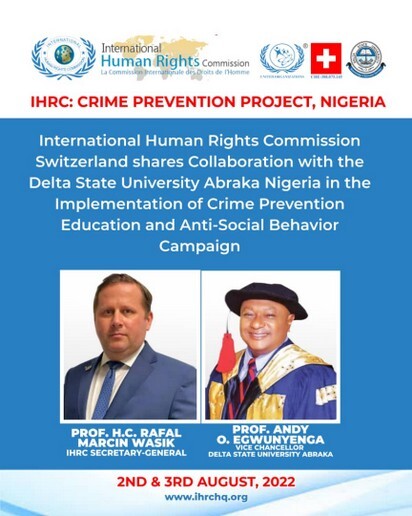 OPENING REMARK BY THE SECRETARY-GENERAL IHRC AT THE OFFICIAL FLAG-OFF OF THE CRIME PREVENTION EDUCATION AND ANTI-SOCIAL BEHAVIOR CAMPAIGN PROJECT IN NIGERIA. HELD AT DELTA STATE UNIVERSITY ABRAKA, ON TUESDAY 2ND AUGUST 2022.
His Excellency; Dr. Ifeanyi Aurthur Okowa (the Executive Governor of Delta State),
The Vice-Chancellor Delta State University Abraka Nigeria; Prof. Andy Egwunyenga,
Government Stakeholders at different Levels,
Civil Society, Religious and Traditional Leaders,
Distinguished Ladies and Gentlemen.
Sincere gratitude for your cooperation and efforts in attending today's official flag-off of the Crime Prevention Education and Anti-Social Behavior Campaign.
We are a Transnational Intergovernmental Organization with headquarters in Zurich Switzerland established to deal with humanitarian aid, protection, and respect for human rights in the world. International Human Rights Commission (IHRC) is a member of the "Migration and Home Affairs" Department of the European Commission, the Executive Civil Service of the European Union.
The conception of the Crime Prevention Education and Anti-Social Behavior Campaign is in recognition of the Doha Declaration of the United Nations Office on Drug and Crime (UNODC) adopted at the 13th United Nations Congress on Crime Prevention and Criminal Justice in improving awareness of children and youth to prevent crime, terrorism, and corruption and promote sustainable development.
The Nigerian society has been witnessing an ethical decline and moral crisis as moral values which were hitherto cherished are degenerating. Citizens of the country particularly youths are becoming more violent, crime vulnerable, materialistic, drug prone, sexually promiscuous, evil-minded, and greedy. Anti-social behavior produces social harm. A person who engages in this behavior, especially if sustained over time, may have reduced lifetime opportunities and this may lead to maladjusted behaviors in adulthood, he hinted.
Students' involvement in vices may not only hinder their attainment of academic success but could dent the image of their institution and reputation. An institution noted for lawlessness amongst students and anti-social vices like fighting, stealing, cultism, indecent and provocative dressing, sexual harassment, breach of peace, examination malpractice and impersonation may not be able to attain academic excellence.
At International Human Rights Commission, we recognized that education is a global tool to promote peace, justice, and equality for sustainable development; we understood it has a major role to play in shaping the values of future generations, building collective consciousness, reshaping societal preferences and complementing this with the necessary skills to enact these values, that's the reason the Project will focus on certain aspects of education that are meant to cultivate critical thinking skills among youth and build an awareness that crime is bad and harmful to society. This, in turn, should inspire individuals to abstain from criminal activities and also instill support for societal efforts to prevent and address all types of crime."
Let me appreciate the leadership of the Delta State University Abraka Nigeria headed by Prof. Andy Ogochukwu Egwunyenga for the collaboration and support; it is worthy to note that the Delta State University Abraka has taken the lead in this project implementation as the first hosting Tertiary Institution worldwide. Thank you!
We urged the Delta State Government to ensure the sustainability of the Project in the State.
Prof. h.c. Rafal Marcin Wasik