New President
Monitoring > Ukraine > Presidental 2019
INTERNATIONAL HUMAN RIGHTS
COMMISSION Congratulates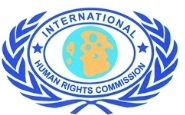 Volodymyr
Zelensky for Winning the Ukrainian Presidental Election 2019
More than 35 million people were eligible to vote in Ukraine's presidential election on March 31 - the first electoral test for President Petro Poroshenko since he came to power in 2014 on a wave of pro-Western protests. However, several million of the voters in the Russian-annexed Crimea and the rebel-hel
d parts of east Ukraine are unable or unwilling to cast their ballots.
On April 21st, Ukrainians were headed to the polls in a run-off election to pick the country's next president. Voters face a stark choice between tycoon Petro Poroshenko, the incumbent president, and television comedian Volodymyr Zelensky, new to politics.
Ukrainian comedian Volodymyr Zelensky has scored a landslide victory in the country's presidential election. With nearly all ballots counted in the run-off vote, Mr Zelensky had taken more than 73% with incumbent Petro Poroshenko trailing far behind on 24%.
"I will never let you down," Mr Zelensky told celebrating supporters.
General Secretary & TEAM IHRC Congratulates Volodymyr Zelensky on a Historical Win in the Ukrain Presidential Election 2019.
Sir.Rafal Marcin Wasik the General Secretary of the International Human Rights Commission & Coordinator of International Observers along with IHRC team has officially monitored the Ukrainian Presidential Elections 2019. The IHRC Citizens Association in Ukraine was also been accredited as a local social observer for the Presidential Election. General Secretary International Human Rights Commission with his TEAM as the Official Observer for the Presidential Election were on the Ground since the Polls Open on March 31st & on April 21, 2019.

Secretary General
International Human Rights Commission