IHRC Upholds the Rights of a Poor
What we do > SMM IHRC > Actions > Asia > India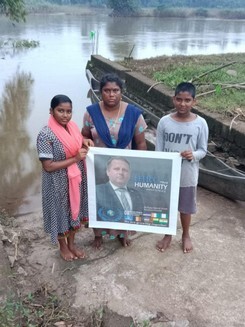 IHRC Upholds the Rights of a Poor Widow in India
The Special Monitoring Mission Officials of the International Human Rights Commission in Kerala India, intervenes in the alleged illegal construction by land mafias which has affected the home of a widow and her children which resides by the side of Achankovil River in Alappuzha District.
Report has it that Kerala in 2018 biggest flood, a widow's house was demolished completely leaving her and her two kids homeless until the government reconstructed a new home for them, with the support of the local politician and government bodies.
According to realible source, the land mafia allegedly destroy the new apartment given to them by the government for reasons yet to be verified.
Then the family has seek for help of IHRC and legally we have supported them by stopping the construction process and giving the stop memo from Revenue Department. The subject is now in hands of the District Executive Magistrate until the alleged construction is removed from the site and returned back to the old phase. Be rest assured that IHRC will stand and abide with them.
In Kerala IHRC is now making a trade mark among the common people so far as to stand with them and solve their problems legally. We are committed to grow till we reach each corner of the Globe Serving Humanity. Let's go together for serving Humanity.
---

Reported:
IHRC SMM INDIA REGION
RVC/ID NO: V3171/CZ/EU20