IHRC Supports Sri Lanka's Senior Citizens with Specialized Eye Health Clinics
What we do > Actions > Medical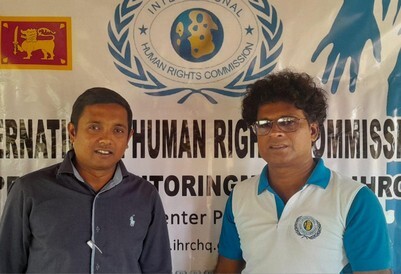 IHRC Supports Sri Lanka's Senior Citizens with Specialized Eye Health Clinics.
As a voluntary assistance program of the Special Monitoring Mission of the International Human Rights Commission (IHRC SMM), on September 16, 2023, the Officials of the Special Monitoring Mission in Sri Lanka organized an eye clinic and a program to provide free spectacles to the senior citizens of Sri Lanka.
Accordingly, Mr. Satyavel Babudaran, the Sri Lankan National Volunteer Coordinator of the
International Human Rights Commission of Sri Lanka, Dr. Chrishantha Dissanayake, Ms. Sakura Wasanthi, Kaweesha Sanjana, and Udara Ratnayake participated at the event.
Also, Dr. Chrishantha Dissanayake asked the participants of the clinic that senior citizens should not be left alone but protecting them should be the ultimate duty of man.
This eye clinic and free spectacles distribution program was held at Dankotuwa Abaya Sinharama Temple in Puttalam District, North West Province of Sri Lanka and the necessary health clinics were provided to senior citizens in 10 villages of Dankotuwa Divisional Secretariat with the help of Sri Lanka's expert resources.
Meanwhile, spectacles and health equipment worth three and a half lakh Sri Lankan currency were distributed.
---

Reported by:
Dr. Chrishantha Dissanayake.
---

Editorial:
Fidelis Onakpoma
Editor-in-Chief for the International Human Rights Commission IHRC
October 3, 2023