Presidential Election
Monitoring > Ukraine > Presidental 2019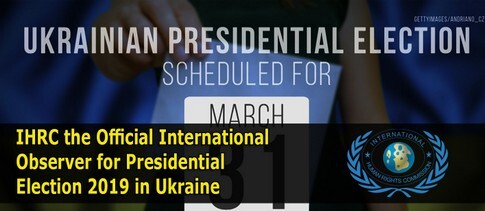 IHRC Official International Observer for Presidential Election 2019 in UKRAINE
UKRAINE will hold elections on March 31, 2019 as 44 candidates battle to win the presidential election race. Ukraine's presidential election will be held in less than a Month. Although the campaign has not been officially launched yet, a lot of potential candidates have already announced their intentions to run.
Over 2 billion hryvnia ($71.3 million) will be spent on the organization of the presidential elections in Ukraine. "So far, the total amount is 2.354 billion hryvnia ($80 million), of which about 1.5 billion hryvnia ($53.5 million) will be spent on the first round of elections, and 848 million hryvnia ($30.2 million) on the second round of elections," Deputy Chairman of the Central Election Commission (CEC), Yevhen Radchenko told a press conference in Kyiv, Censor.NET reports citing UNIAN.
The three front runners in the Ukraine election race include incumbent President Petro Poroshenko, opposition leader Yulia Tymoshenko and comic actor Volodymyr Zelenskiy. The latest opinion poll, published on Monday, has puts Mr Zelenskiy in first place, with Mr Poroshenko second and Mr Tymoshenko third. Earlier polls also placed the 41-year-old comedian in first place.
Verkhovna Rada (Unicameral parliament of Ukraine) introduced amendments to three laws on elections in Ukraine, banning Russian citizens from being official observers both personally and within international organizations at presidential, parliamentary or local elections. The law says that it will come into force the next day following official publication in the media.
Sir.Rafal Marcin Wasik the General Secretary of the International Human Rights Commission & Coordinator of International Observers along with 29 members IHRC team will officially monitor the Ukrainian Presidential Elections 2019. IHRC team will have 12 IHRC members from Ukraine & the rest from Embassy of Ukraine in France, Poland, Belarus, Latvia, Lebanon, USA, Czech Republic, Montenegro, Spain, Austria, Israel, UK, Estonia. Algeria & others. The IHRC Citizens Association in Ukraine has also been accredited as a local social observer for the Presidential Election.
Sir.Rafal Marcin Wasik, is also an originator of conflict resolution in Ukraine. Central Office of the International Human Rights Commission (IHRC) has been officially registered in Ukraine in 2014 in order to create an international network of Human Rights Protection. Since the creation central office of IHRC conducted monitoring of early presidential elections in Ukraine on 25th May 2014, serving as an international observer. Central office IHRC has prepared proposals which has found practical application in the Peace Plan of the President of the Ukraine & Minsk Arrangements of 5th September 2014. In matters of supporting the National strategies against IDP's & development & implementation of legislations on IDP's in the fields of social & economic policy.

Mr. Muhsin Durrani
Advisor Affairs UN IHRC