IHRC - INTERNATIONAL WOMENS DAY
What we do > Actions > Human Rights > Woman Rights are Human Rights > India
INTERNATIONAL WOMENS DAY
This life has no existence without a strong ally in 'Woman' in every stage of life starting from motherhood to wife, from sister and finally a daughter. Happy Women's Day" Kerala India
---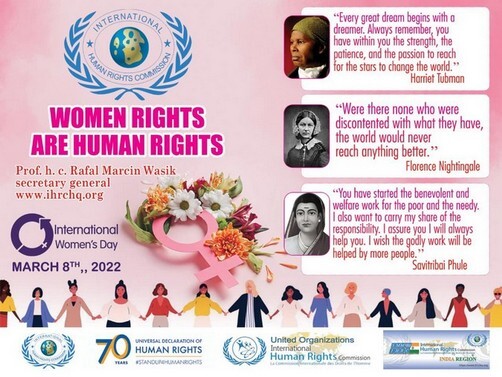 International Human Rights commission(IHRC) along with AICP &LO celebrated International Women's Day.March 8th, In this occasion elderly women over the age of 60 were honored. The program was happily dispersed after cutting the cake and a grand feast.
International Women's Day is observed on March 8 every year across the world. This is a day dedicated to celebrate the social, economical, political, and cultural achievements of women. So today many are also taking to social media platforms to share warm wishes for the women in their lives.
The day which is celebrated on 8 March, is preceded by week long celebrations which are collectively called Women's Week. Women's week is based on five major factors that seek to empower women in every way possible and include building relationships, self-knowledge, healthy self-image, leadership development and sexual assault and interpersonal violence. These five factors are integral to Women's lives and development of a global scenario that facilitates women's well-being and equal status in the society.
International Women's Day is almost here and it is celebrated to recognize, acknowledge and celebrate the achievements of women in all spheres of life, be it social, political, economic, domestic or cultural. Women have been oppressed since times immemorial and in addition to gender, there are several other factors that pull women down. However, they decided not to let themselves be brought down by these factors and struggled for equal rights, opportunities and treatment. In order to recognize the struggle that began centuries ago but continues till date, International Women's Day is celebrated throughout the world to mark this long struggle.
"HAPPY INTERNATIONAL WOMENS DAY "
"WOMEN RIGHTS
ARE
HUMAN RIGHTS "
---

PRESS RELEASE INTERNATIONAL WOMEN'S DAY
ANEESH MON.SK
REGION RVC/ID NO:V3171/CZ/EU20