IHRC-Drug Education
What we do > SMM IHRC > Actions > Africa > Nigeria > Delta State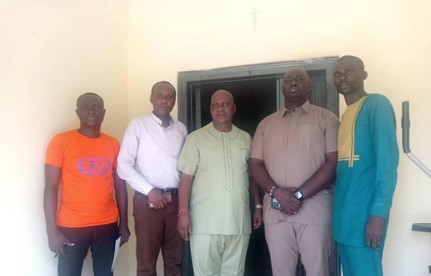 IHRC- Drug Education and Rehabilitation Flagship
...Wisdom Class Team and Special Monitoring Mission of International Human Rights Commission Consults Stakeholders.
Chief of Staff to Speaker, Delta State House of Assembly; Chief (Dr.) Ebenezer Okorodudu and the Executive Assistant on Communications to the Delta State Governor; Chief Barr. (Dr.) Fred O. Latimore who serves as Patrons to the Wisdom Class Organizations endorses Drug-Free Delsu Project
"Drug Education and Rehabilitation Fund".
Towards the flagship of the Drug-Free Delsu Project tagged
"Drug Education and Rehabilitation Fund"
, Wisdom Class along with the International Human Rights Commission made a consultation to Patrons and Government Stakeholders in Delta State.
The Project is a proposed partnership with the Delta State Government as part of an effort to changing the negative narrative aimed to champion drug rehabilitation and provide a credible alternative counterbalancing role in shaping a normative culture of safety, moderation, and informed decision-making for young people and adults on licit and illicit drug use.
The idea of the flagship is to:
Raise awareness and stigmatize the gross use of licit and illicit drugs which has become somehow tolerated.




Raise funds for drug testing and rehabilitation of victims.




Establish a platform for alternative assistance and prevention.



The Flagship takes place on the 18th of May 2021, at 500 Capacity Auditorium, Faculty of Education Campus III Delta State University Abraka.
---

Issued:
Fidelis Onakpoma
IHRC Journalist.