IHRC: Ministry of Women Affairs
What we do > Actions > Human Rights > Woman Rights are Human Rights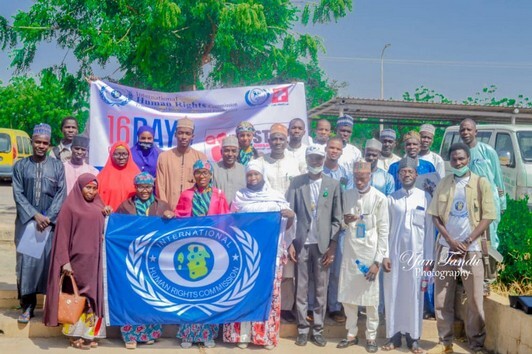 IHRC SMM: Ministry of Women Affairs, CSOs, Others Marks UN Day for Elimination of Violence Against Women in Katsina
Nigeria: The Special Monitoring Mission International Human Rights Commission (SMM IHRC) Katsina State, flagged off 16-Days of Activism for the Elimination of Violence Against Women and Girls at Katsina State Ministry of Women Affairs Conference Hall in collaboration with the Women Affairs Ministry.
The 25th of November each year has been slated by the United
Nations (UN) to mark the International Day for the Elimination of Violence Against Women globally.
SMM IHRC in Katsina State Nigeria was not left out in commemorating the epoch event with special dignitaries such as the Honorable Commissioner for Women Affairs Katsina State, Hajiya Rabiatu Muhammad Daura, Representatives of Clubs and Association, Humanitarian Organizations as well as other well-meaning individuals were in attendance.
The occasion featured a series of lectures and paper presentations. The first presentation was by Hajiya Jamila Shibdawa on 'Gender-Based Violence and its Negative Impacts', while the second presentation was done by Zaharradeen Lawal Masanawa on 'The Effects of Human Rights Activism in Protection of Women's Dignity in our Society.
The State Coordinator SMM IHRC Katsina State Kamaluddeen Yahaya, who spearheaded the activities was in the company of other IHRC Volunteers in the State drawn from the 34 Local Government Areas.
In continuation of programs marking the 16 days of Activism according to Kamaluddeen Yahaya, a series of activities are scheduled to ensure the successful conduct of the whole exercise.
Among the activities scheduled include:

• International Women Human Rights Defenders Day
• International Day For The Disabled
• International Volunteers Day For Economic and Social development
• International Human Rights Day and Anniversary of the Universal Declaration of Human Rights
Kamaluddeen Yahaya further stated that the scheduled program of activities will last up to 10th December 2022.
In his closing remarks, Kamaluddeen Yahaya expressed appreciation for the level of cooperation being accorded to IHRC by the State Government as well as the entire people of the State.
The reports of the subsequent activities will also be reported accordingly.