International Human Rights Commission
Foreign Affairs > Cooperation > Africa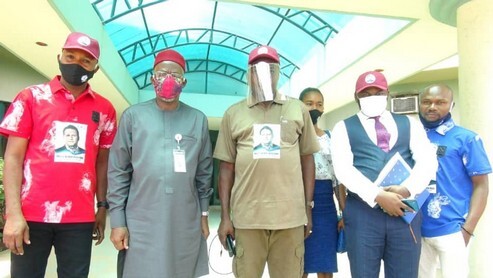 PRESS RELEASE FROM THE COUNTRY/OFFICIAL IHRC NIGERIA OFFICE
the International Human Rights Commission (IHRC) Nigeria office today paid official visit to the Nigeria National Human Rights Commission.
Ambassador Friday sani who was in company of IHRC Secretariat lawyers and administrative staffs explained the desire of the of a highly focused leadership of ihrc under Rafal Marcin Wasik (Secretary General IHRC)to give priority attention to African countr
ies especially Nigeria.
Ambassador sani futher stated that Rafal Marcin Wasik is very happy Nigeria federal capital city who did record any incident of killing by security operatives or brutality by security operatives compared to other state of the federation and insisted that restoration human dignity is penecia for peace in the world.he said inferiority to superiority must be abolished while he also used the occasion to present an MOU to director for study and subseqent signing of the document by Friday next week all things being equal.
Ambassador sani and team of IHRC was recieved by the director of corporate affairs mr Lambert reating to the visit described ambassador sani as an epitome of a true human rights Activist Mr. Lambert also said IHRC Nigeria has proven itself beyond reasonable doubt and hence the commission has made up its mind to partner with ihrc.he further assured IHRC Nigeria that he would do everything possible to get this MOU by Friday next week
High light of the occasion was presentation of a plaque containing certificate of appreciation of IHRC with the proposed MOU by Ambassador Dr Friday Sani.