IHRC- Drug Education: A timely Initiative for
Press center > Secretary General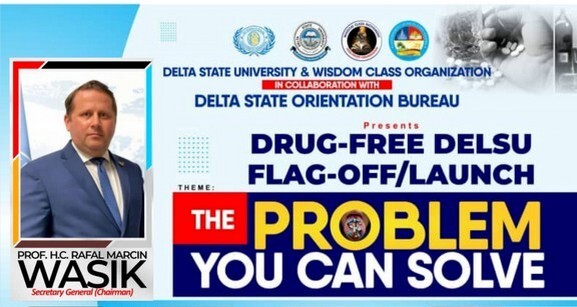 IHRC- Drug Education: A timely Initiative for
Niger Deltans
---
Secretary-General International Human Rights Commission, Prof. h.c. Rafal Marcin Wasik has applauded the collaboration of the Delta State Government and the University of Abraka for the shared partnership with Wisdom Class Organization and the International Human Rights Commission in the implementation of drug education and rehabilitation.
Bearing in mind that the world drug problem is a common shared responsibility that should continue to be addressed in a multilateral setting through effective and increased international cooperation and that demands an integrated, multidisciplinary, mutually reinforcing balanced, scientific evidence-based, and comprehensive approach.
The Secretary-General affirmed the Organization's determination to effectively partner with interested groups and organizations to tackle the world drug problem and to actively promote a society free of drug abuse to help to ensure that all people can live in health, dignity, and peace, with security and prosperity.
The implementation of this project in the Niger Delta Nigeria will in a better way help in combating and reducing crimes.
Signed:
Prof. h.c. Rafal Marcin Wasik
(Secretary-General IHRC)
Issued:
Fidelis Onakpoma
IHRC Journalist