IHRC Chairman visits Chad
What we do > Conflict Zones > Republic of Chad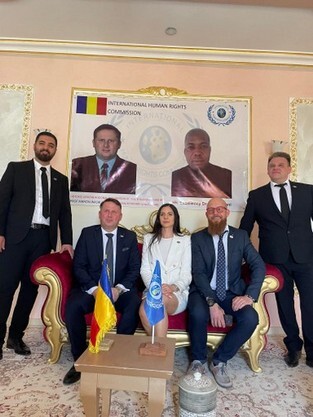 Chairman of the IHRC Prof.h.c. Rafal M. WASIK together with a delegation of Ambassadors visited the Republic of Chad.
---
On March 28, 2022, a delegation of the Intergovernmental Organization International Human Rights Commission from Switzerland composed of: Prof.h.c. Rafał Marcin Wasik Chairman / Secretary General, Ambassadors Ewelina Pawłowska, George Khatyfian, Daniel Błaszczyk and Jan Tesarik, came to the capital of the Republic of Chad, N'Djamena with a Diplomatic Mission. The main edition of the National Television of Chad announced the arrival of the delegation.
The IHRC is a nationally accredited diplomatic organization, humanitarian provider and independent intergovernmental negotiator acting as the International National Dialogue Adviser in Chad.
In 2020, IHRC successfully obtained diplomatic accreditation by signing a Memorandum of Understanding with the Ministry of Foreign Affairs (diplomatic accreditation number 145 IT)
It should be recalled that almost a year has passed since the assassination of President Idryss Deby, who has held power in this country for more than 30 years and has definitely won the last democratic presidential election. After the announced victory, he was killed by the Rebels on April 20, 2021.
The Secretary General chaired the new Head of the Diplomatic Mission of the IHRC Ambassador in Chad, Dr. Friday Abdul SANI, a Nigerian citizen and the Director of the Diplomatic Protocol of Bienvenu HIROUA GOARE, a Chad citizen. George KHATIFIAN from Switzerland was appointed Chargé d'affaires. Jan TESARIK from the Czech Republic became the Special Diplomatic Adviser.
The new appointments were submitted and accepted for accreditation by the Minister of Foreign Affairs of the Republic of Chad, Ambassador Cherif Mahamat Zene.
The Secretary General of the IHRC officially opened the headquarters of the Diplomatic Regional Headquarters in Africa IHRC African Regional
Headquarters in the Republic of Chad, N'Djamena.
Amtoukoui 2.Av Boulevard Ngarta Tombalbaye en face Station ECRB Rue No 6439
Ambassador Romanos Raad High Commissioner Foreign Affairs, former IHRC Head of Mission in Chad, has returned to our HQ office in Switzerland, Zurich to continue building strong diplomatic relations around the world
Prof. h.c. Rafał Marcin Wasik