Zhytomyr
Offices > IHRC Czech Republic > Branchs offices > Ukraine > Cooperation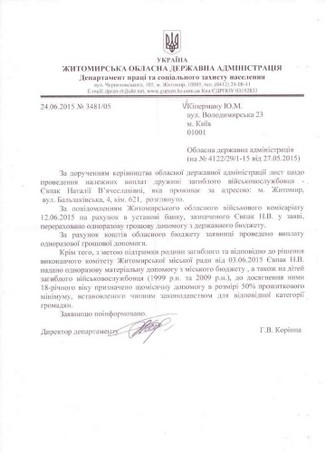 UKRAINE
ZHYTOMYR REGIONAL STATE ADMINISTRATION
Department of Labour and Social Welfare
105, Chernyakhovsky street, 1005, Zhytomyr city.
24.06.2015 No 3481/05
Mr. Y. Kiperman
International Human Rights Commission
Vladimirska str.
01001 Kiev city
Regional State Administration
(to No
4122/29/1-15
from 27.05.2015)
On the instructions of the Head of Regional State Administration the letter about the conduction of appropriate payments for wife of the deceased soldier - Nataliya Yevpak who lives at: Zhytomyr city, 4 Balzac str., room 621, reviewed.
According to the notification from Zhytomyr regional military commissariat on 12.06.2015 the account in a Bank, stated by Nataliya Yevpak in the application, transferred one-time cash assistance from the state budget. At the expense of the regional budget applicant held a one-time payment of cash benefits. In addition to support the family of the deceased soldier and in accordance with the decision of the executive committee of Zhytomyr Council Committee on 03.06.2015 there is provided one-time financial assistance from the city budget for Nataliya Yevpak, also there is assistance for the children of the deceased soldier (who were born in 1999 and 2009) until they reach the age of 18 in the amount of 50% monthly subsistence minimum established by current legislation for the relevant category of citizens. The applicant informed.
Director of Department Ms. G. Korinna