Protocol Agreement - Kingdom of Havai'i and IHRC
Foreign Affairs > Kingdom of Hawai'i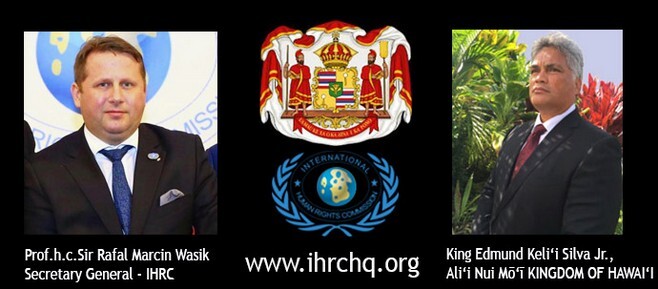 PRESS NOTE FROM THE OFFICE OF THE SECRETARY-GENERAL INTERNATIONAL HUMAN RIGHTS COMMISSION:
Under the visionary leadership of General Secretary Prof.h.c. Rafal Marcin; IHRC is working to strengthen & support all Nations' with the capacity to engage in sustainable development through educational access, relief programs, ecological & bioethical reflections & actions, while taking into consideration the traditional, social & cultural values of each Nation in promoting Human Rights through Peace, Gender Equality, Health, Economic development, awareness regarding the rights of women, children & youth in developing nations & where ever needed.
We have received extraordinary appreciation for our Passion to serve Humanity with improvements in people's life & Peace around the world. IHRC is expanding its operations to extend its reach for the People in need across the Globe.
To further strengthen IHRC on diplomatic affiliations Prof.h.c. Rafal Marcin Secretary-General International Human Rights Commission has received an official confirmation from King, Ali'i Nui Mō'ī, Edmund K. Silva, Jr. - Paki, of the sovereign nation of the Kingdom of Hawai'i, whose sacred name is Nalikolauokalani Paki - Ka 'I 'omaka-ola-hou-Kaluaokalani-ka-'I-mano- 'anu'unu'u-ka-lama-kea-i-ho'oku-ke-aupuni-o-Hawai'i, confirming the Official Diplomatic Relationship & full support to the Leadership & Vison of IHRC from the Kingdom of Hawai'i.
As the hereditary King of the Kingdom of Hawai`i, he approves the vision and humanitarian work of IHRC. IHRC's specialized intergovernmental organization; and the International Human Rights Commission shall provide humanitarian aid, protection, and respect for human rights around the world. The King stated that IHRC's Key to accomplishing this vision is by aggressively developing international information and organizational activities that support open communications between governments, and government programs, as well as Diplomatic Humanitarian Missions that works in harmony with nature, the human family, and the natural world.
He also stated that an excellent example of IHRC activities is the ground-breaking efforts in the area of understanding the global impacts of illegal immigration and creating innovative answers through cooperative partners such as the new initiative with the Bissau Government. The hundreds of active volunteers in the IHRC Special Monitoring Mission, protecting local rights and monitoring political situations, is an additional example of critical activities to protect human rights globally.
Na Kanaka Maoli, the People of Hawai'i, recognize our responsibility, our Kuleana, to spread the spirit of Aloha which is the love of everyone and everything. This spirit of Aloha for all those on Mother Earth compels me to step up in support of IHRC in an active way so that each individual will have the rights given under their Creator, supporting the opportunity to fulfill their own destiny.

Team IHRC warmly & with great respect would like to convey a warm WELCOME to the People of KINGDON OF HAWAII & special Thanks to the King of the Kingdom of Hawai'i - Nou Ke Akua Ke Aupuni O Hawai'i