IHRC Laissez-Passer
About HQ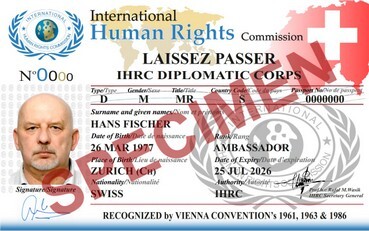 Protocol –IHRC Laissez-Passer
The IHRC Laissez-Passer was introduced in 2023 to replace the so-called "blue passport" issued since the 1950s to certain categories of persons.
It is intended for the following categories of persons on a "need-to-have" basis:
Permanent Representatives (Ambassadors to the Organisation);
Secretary General, Deputy Secretary General;
Special Members of the IHRC;
Staff members of the Organisation.
The IHRC Laissez-Passer is issued for official purposes only, to facilitate the carrying out of official missions. It states the official status and functions of the bearer and the privileges and immunities granted to the bearer under the General Agreement on Privileges and Immunities and its Protocols or the relevant conventions, where applicable.
The laissez-passer must be used in conjunction with a national passport.