Karachi
Press center > Asia Region > Mohsin Durrani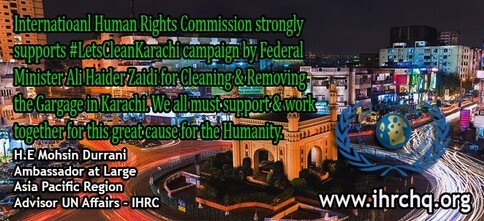 Karachi was founded as "Kolachi" by Sindhi and Baloch tribes from Balochistan and Makran, who established a small fishing community in the area. Descendants of the original community still live in the area on the small island of Abdullah Goth, which is located near the Karachi Port.The original name "Kolachi" survives in the name of a well-known Karachi locality named "Mai Kolachi" in Sindhi. Mirza Ghazi Beg, the Mughal administrator of Sindh, is among the first historical figures credited for the development of Coastal Sindh (consisting of regions such as the Makran Coast and the Mehran Delta), including the cities of Thatta, Bhambore and Karachi.
Today Karachi needs our special care, lets forget who is doing what for Karachi as the resident of Karachi lets support good initiatives an initiative taken by the Federal Minister for Shipping
Ali Zaidi (Official)
for removing garbage & to clean Karachi on our own.
International Human Rights Commission
surrender its complete support for the cause directly linked with the basics of Human Rights for each & every resident of Karachi.