Why Not Warri
Press center > Africa Region > Nigeria > Delta State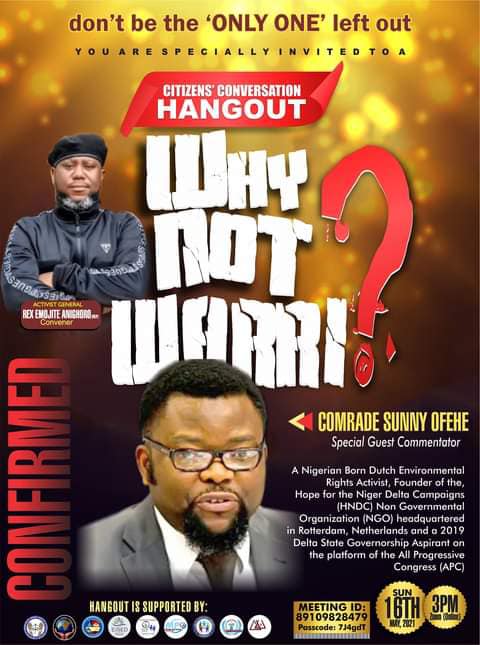 IHRC- Niger Delta Underdevelopment: Call for Cooperate Interventions
....Partners "Why Not Warri" Global Advocacy for Effective Int'l Leverage
The modern unpleasant portray of Warri-Delta as an unsafe, war zone, and unfriendly environment for investors and business development has ravished the dividends of Deltans in many ways leaving the Warri metropolis underdeveloped.
A renowned Niger Delta Social Justice Activist and Senior Special Assistant to the Delta State Governor on Civic Engagement and Civil Society Matters, Activist Rex Anighoro has expressed interest to partner with the Special Monitoring Mission of the International Human Rights Commission in Niger Delta, in the global advocacy tagged "Why not Warri".
The advocacy is a given development initiative for the good of the Niger Delta Region in pursuit of social justice with a sense of urgency to reach out to everyone and everywhere regardless of political affiliation.
The city of Warri is an oil hub to South-South Nigeria. The largest town (though not the capital) of Delta State, is claimed as a homeland by three ethnic groups: the Itsekiri, the Urhobo, and the Ijaw.
Its inhabitants are predominantly Christian of different denominations, and some practice a mixture of African traditional religions like most of Southern Nigeria.
The city has suffered untold neglect and underdevelopment by the government. The level of neglect and underdevelopment the people of the Niger Delta suffer under the Federal government would not have been so pathetic if the various ethnic groups were not bound by primordial acrimony and disunity.
The idea of "Why Not Warri" Global Advocacy is not a denial by not acknowledging the past missteps of its habitants but a conscious strive to move beyond the pains of the missteps which turned the people against themselves thus making them collective victims of an impoverished environment naturally endowed to be one of the greatest cities on earth.
The invitation of the International Human Rights Commission Special Monitoring Mission is hinged to facilitate the creation of cooperative networks and economic development programs, enlisting and involving financial institutions, diplomatic representations, private enterprises, governmental bodies, and other concerned parties.
This we will support by broadening the understanding of sustainable economic development and promote the implementation and dissemination of norms, rules, and guidelines that are aimed at restoring the dignity and rights of the Warri Kingdom in the Niger Delta.
Reported:
Fidelis Onakpoma
IHRC Journalist & ZVC Niger Delta.