Lovereign Care Foundation RtU
Press center > Africa Region > Nigeria > Delta State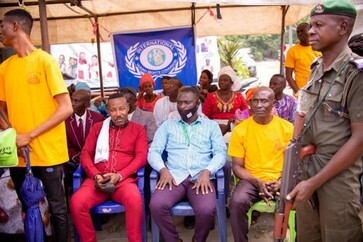 IHRC: Lovereign Care Foundation RtU, a Benchmark in Humanitarian Services.
As part of contributory efforts to achieving sustainable development goals in particular: the eradication of poverty in all its form, zero hunger everywhere and well-being of all; reaffirming the number of people who suffer from hunger – as measured by the prevalence of undernourishment – began to slowly increase again in 2015; reiterating the current estimates showing that nearly 690 million people are hungry, or 8.9 percent of the world population – up by 10 million people in one year and by nearly 60 million in five years.
The Editor-in-Chief International Human Rights Commission and Special Monitoring Mission Zonal Coordinator in the Niger Delta; Ambassador Fidelis Onakpoma has described the "Reaching the Unreached" (RtU) Initiative of Lovereign Care Foundation as a benchmark initiative championing the achievements of the sustainable development goals in the Niger Delta as over 5,000 less privileged were fed, clothed and empowered.
Fidelis Onakpoma made the call on Thursday 30th December 2021 during the Foundation's annual RtU event for the aged persons, persons with disabilities, and widows at Amoji Town in Onicha-Ukwuani Delta State.
According to the Executive Director of Lovereign Care Foundation, Pastor Robinson and Prophetess Vivian Nwachukwu told IHRC Correspondent the "RtU Project" is aimed to empower and put smiles on the faces of people.
Emphasizing the inspiration that birthed the initiative, the Clerics disclosed that in many communities all over the world, widows can't find employment, whether through prejudice or lack of skills. Having to find other ways to support themselves, often leads to child labor, prostitution, and other forms of exploitation".
He maintained that people with disabilities are always disadvantaged, marginalized, and stripped of many opportunities, despite their abilities, they are not recognized but denied access to equal opportunities.
"Therefore it is an annual charity outreach of the Foundation aimed to shower love and care by putting smiles on the faces of the needy especially widows, aged persons, and people with disabilities. The project is designed to make a substantial contribution and alternative provision for the physically challenged and other vulnerable groups and to reach the unreached during the yuletide period in Delta State", he added.
---

Reported:
Fidelis Onakpoma
Editor-in-Chief International Human Rights Commission,
SMM IHRC Zonal Coordinator Niger Delta.