Meeting to Amb.Benedict de Cerjat
Foreign Affairs > Switzerland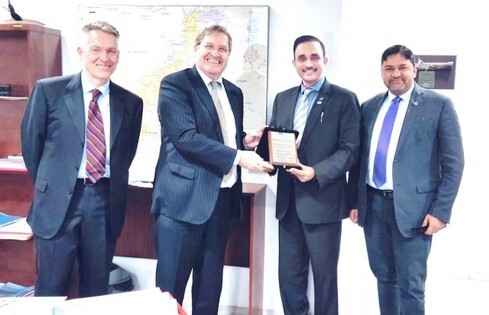 IHRC meeting to Ambassador of Switzerland
H.E Benedict de Cerjat & team Embassy
of Switzerland in Pakistan
International Human Rights Commission
would like to thanks Ambassador of Switzerland H.E Benedict de Cerjat in Pakistan & team
Embassy of Switzerland in Pakistan
for their precious time & meeting with
International Human Rights Commission
Ambassador at Large & Advisor UN Affairs
Ambassador Mohsin Durrani
&
Asim Irshad
Ambassador of IHRC in Pakistan.
The meeting was held in continuation of
International Human Rights Commission
registration & official opening of IHRC office in
Geneva
Switzerland. International Human Rights Commission has been officially registered and recognized by the Canton of Geneva, Switzerland & has started its operations & its activities in Switzerland Indicating that CHE- 367.969.172 is the official registration number in Geneva.
Recently IHRC has signed an official Diplomatic Agreement with The Ministry of Foreign Affairs, African Integration and Chadians Abroad (Directorate General of State Protocol) of the Republic of Chad with the operations of the Embassy of IHRC in Republic of Chad for African Countries Diplomatic registration Code Minister of Foreign Affairs Republic of Chad No. 145.
IHRC believes in serving Humanity with improvements in people's life & Peace around the world. IHRC is expanding its operations to extend its reach for the People in need across the Globe with 09 Government treaties. Currently we have more than 22 countries representing IHRC with 22 Ambassadors at Large representing IHRC in their respective countries. We have 12 Ambassadors & 14 Goodwill Ambassadors with more than 5000 Volunteers across the Globe. Similarly, we have 21 IHRC Special members, 05 IHRC Commissioners & 01 Young Ambassador.
---

Reported:
H.E.Mohsin Durrani
Ambassadorat Large & Advisor UN Affairs