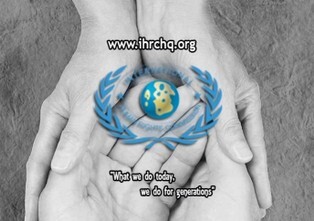 INTERNATIONAL HUMAN RIGHTS COMMISSION - IHRC
La Internationale des Droits de Ľhomme Mezinárodní komise pro lidská práva - nadační fond, ve zkrácené formě IHRC - nadační fond
Short name: IHRC Registered Office: Loretánské náměstí 109/3, Hradčany, 118 00 Praha 1
ID number: 05967023
Legal form: Inter-governmental Endowment Fund ( Umbrella Fund)
File number: N 1754 maintained by the Municipal Court in Prague
Endowment Register kept by the Municipal Court in Prague Section N, Entry
1754
Approved by the legal amendments to the Articles of Association of the IHRC by the Court Czech Republic in Ostrava on November 2019 on the activities of the Fund:
Endowment Fund Accreditation
If a memorandum is concluded by and between the endowment fund and any foreign country, the endowment fund INTERNATIONAL HUMAN RIGHTS
COMMISSION La Commission Internationale des Droits de Ľ homme Mezinárodní komise pro lidská práva nadační fond shall become an inter-governmental organization.
Established in the Czech Republic in 2017.03.29, deals with humanitarian aid and protection and respect for human rights around the world. It is an impartial and independent, and what is very importantly, self-financing organization.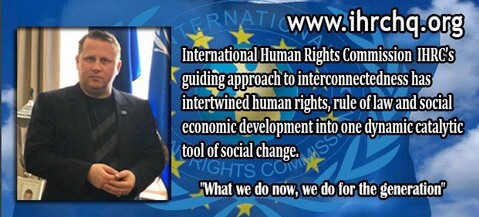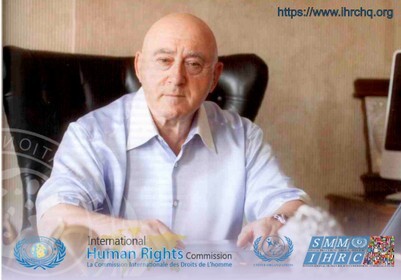 Co-founder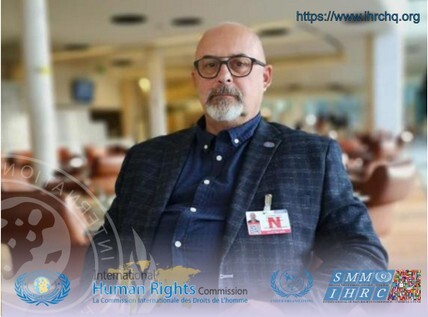 Second Vice Secretary General: Ladislav Tesarik

Accredited IHRC offices:
23, Volodymirska Street, 01074 Kiev,
Head: Mr. Iurii M. Kiperman
First Vice Secretary General IHRC, Ambassador at Large
Information from the Unifield State Register of Enterprises and Organizations of Ukraine ( USREOU )
Representation of the Umbrella Fund "International Human Rights Commission " in Ukraine
Identification code 26628776
Place of the last registration action:
No. 22520-33-18/19.4 MINISTRY OF JUSTICE OF UKRAINE
---
Address: Center Geoger Wakim, Mansourieh
President decree Number 6573 , 6 July 2020
Head: Col. Romanos Aziz Raad
Ambassador at Large in Middle East
also
Memorandum of Understanding
Republic of Niger, Republic of Guinea-Bissau and the Kingdom of Hawai'i.
Next agreements are under negotiation with over 20 countries from Europe, Asia, Africa and South America. Memorandum of Understanding with the
Guinea-Bissau Government establishes the first country's novel barrage to stop the illegal migration of people from Africa to Europe.
In IHRC addition, he runs offices Poland, Belgium, Austria, Switzerland, Spain, Switzerland, Estonia, United Kingdom, Montenegro, Cyprus in Pakistan, Bangladesh, Algeria, Nigeria, Guinea-Bissau, Chad, Ivory Coast, Cameroon and Ghana, Chad, Zambia.
IHRC collaborates officially National Agency for the Prohibition of Trafficking in Persons ( NAPTIS ) to tackle issues in Nigeria.
As part of the IHRC Commission structure, in 2019 was established the Federation

of Human Rights

Arbitration - Federal Court.

The Federal Court

is an independent, separate organizational unit, registered at the Court of Justice of the European Union in Grand Duchy of Luxemborg under number:
DEM 10017783. IHRC and its entire structure uses the rules IUS tracttatium, IUS Standi, IUS Legations and Mix Legal
Systems.

IHRC's missions to support and develop international information and organizational activities, as well as through active participation in current events in around the world, support of communication platforms between governments, government programs and diplomatic missions as well as participation in their creation.
To date, in cooperation with local organizations, the Special Monitoring Missions IHRC (SMM IHRC), has carried out humanitarian aid for over million's people around the world, including refugees from areas subject to armed conflicts and their families. Through thousands of active volunteers associated and registredin the Special Monitoring Mission SMM IHRC, we are active in all corners of the world, running humanitarian aid programs, raising awareness and protecting local rights, and monitoring local social and political situations. Members SMM IHRC Volunteer in the time of pandemic of the CoVID-19 virus have risked their lives and health, under the direction of local SMM IHRC officers, have carried out hundreds of actions to provide food aid to victims, the poor and needy and to make them aware of the methods of protection against infection.

We have long been facing the problems of thousands of small and medium-sized organizations around the world, resulting from the inability to break above the local impact and establish cooperation with other organizations with similar goals, or the indifference of authorities to their needs.
That is, why at IHRC we have developed a new project to help such organizations spread their wings, to appear in the global work of protecting human rights, to help the excluded, the poor and the needy.
BIG CAN MORE
, which is why we are pleased to announce that the
International Human Rights Commission - IHRC Umbrella Fund
establishes
Participation in United Organizations is open to all Organizations - regardless of their size, place of action or wealth - working for the broadly understood good of humanity.
May not be a member ofUnited Organization, which unlawfully using logos, signs or other terms assigned to other organizations, with particular emphasis on supranational organizations such as the UN, as well as similar signs and terms that may be misleading as to the membership of the Organization or its associations. An Organization that cooperates with such is also not welcome.
We wait and invite you to cooperate for a better tomorrow
IHRC also has a proprietary "LOGO" graphic and a name in the European Union Intellectual Property Office
IHRC informeds about
World News Copyright
The prohibition of processing the data of the organization and its members, in particular applies to persons or others, who submit slander or untrue content in the mass media.
copyright / confidentiality penalty $ 1 million
according to Article 6 of the agreement, the competent is arbitration
court.