MARCH 07 2021 TRAINING WORKSHOP FOR VOLUNTEERS OF IHRC
What we do > SMM IHRC > Workshops and Training > Africa > Cameroon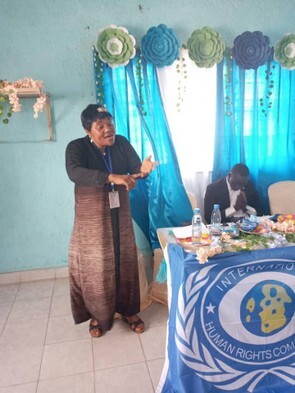 MARCH 07 2021 TRAINING WORKSHOP FOR VOLUNTEERS OF INTERNATIONAL HUMAN RIGHTS COMMISSION (IHRC) SPECIAL MONITORY MISSION (SMM), IN DOUALA ZONE, CAMEROON
The International Human Rights Commission (IHRC) Special Monitoring Mission (SMM) Cameroon held a training workshop for volunteers on Sunday 07 March 2021 in Douala, the Littoral region of Cameroon. The training team was headed by the Multinational Coordinator/Peace Ambassador for Central Africa H.E Bienvenue Hiroua Gouare together with Ms. Holy Anagho Asanji the National Coordinator of IHRC SMM Cameroon.
Hosted by IHRC volunteers of the Douala, the training program took place at Terminus Bonamoussadi , under the chairmanship of the Zonal Coordinator, Mr. Kenneth Ticha, with the intent to educate the volunteers on the vision, mission and objective of IHRC in Cameroon so as to enable the rapid deployment of fully committed volunteers to the field for missions.
In the opening remarks, Mr. Kenneth Ticha started the proceedings with a thank you to the IHRC MNVC and the National Coordinator, as well as IHRC team from the South West Region. Mr. Ticha then invited H.E. Bienvenue Hiroua, the IHRC MNVC/Peace Ambassador to deliver some opening remarks. The Peace Ambassador extended a warm welcome to all volunteers, thanking them for taking the time to join the training workshop. He also expressed his gratitude to the organizers of the training. He explained that the creation of cooperative networks, dissemination of the values and ideas of IHRC, will contribute to the achievement of IHRC mission in Cameroon. He stated his hope that the workshop would contribute to building the capacities of volunteers in the Littoral Region, and that it would strengthen the channels for constructive exchange of ideas among the volunteers.
The following part of the training was presented by Ms. Holy Anagho Asanji the National Coordinator of IHRC SMM Cameroon, who with a general explanation of the objective of the commission. She further explained that the International Human Rights Commission was established in 2017 to serve as intergovernmental organization with the intention to bridge the gap between leaders and the led through a high level of diplomatic relationship with countries of the world. She emphasized on the fact that IHRC is not an organization which engages in protest or sponsored demonstrations; neither does it serve as antagonist to any government in the world, but rather it serve as intervention agent to the internally displaced persons or distressed persons, promotes human rights, gender equality, health, economic development and educational access, awareness regarding the rights of women, children and youth in developing nations and wherever needed. Ms. Holy Anagho concluded her session by presenting a work plan by explaining how IHRC activities could be carried out in the Littoral Region.
The training workshop was successful in achieving most of its objectives and was very valuable.

NVC, SMM Cameroon/ Ms. Holy Anagho Asanji
MNVC/ P.A H.E Bienvenu Goare Hiroua
IHRC SMM Littoral Zonal Coordinator Mr. Kenneth Ticha