SMM Officials in Calaba
Press center > Africa Region > Nigeria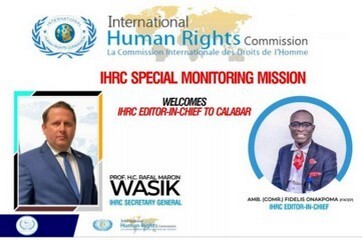 Cross Rivers State SMM to Receive IHRC Editor-in-Chief in Calabar
The Special Monitoring Mission (SMM) of the International Human Rights Commission in Cross Rivers State has reached plans to receive the Commission's Editor-in-chief Fidelis Onakpoma, in Calabar on Thursday 21st October 2021.
The assertion was contained in a briefing made by Fidelis Onakpoma to IHRC Secretary-General Prof. h.c. Rafal Marcin Wasik, conveying the intention and preparedness of the SMM Officials in Calabar.
Fidelis maintained that the Ambassador at Large of the International Human Rights Commission in Nigeria, Amb. Dr. Friday Sani has been properly briefed on the development and has given his counsel accordingly.
The visit is hinged to improve awareness of the Organization among members in Cross Rivers State and help provide holistic modalities that are enshrined in the Organization.
"IHRC is a Diplomatic Organization and its policies are pursued with a diplomatic approach to sustain a global perspective", Fidelis added.

Reported:
Fidelis Onakpoma
IHRC Editor-in-Chief