Resolution 3/12/22
Press center > Secretary General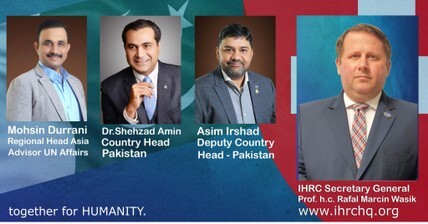 PRESS NOTE FROM THE OFFICE OF THE SECRETARY GENERAL TRANSNATIONAL INTERGOVERNMENTAL FOUNDATION INERNATIONAL HUMAN RIGHTS COMMISSION:
Today, the Managers Board of the Transnational Intergovernmental Foundation International Human Rights Commission - IHRC passed a resolution on the naming of the functions held at the IHRC office in Pakistan.
The change in naming of FUNCTIONAL DESIGNATIONS (from Ambassadors to Regional & Country Heads) for IHRC PAKISTAN is made keeping in view the
"LAW OF THE LAND"
. IHRC believes in respecting & honoring each partnered country for a sustainable & long-term working relationship.
1. Mr. MOHSIN DURRANI -
REGIONAL HEAD ASIA & ADVISOR UN AFFAIRS
2. Dr. SHEHZAD AMIN -
COUNTRY HEAD PAKISTAN
3. Mr. ASIM IRSHAD -
DEPUTY COUNTRY HEAD PAKISTAN
The resolution enters into force upon its adoption.
For the IHRC Managers Board
Secretary-General IHRC Prof.Rafał Marcin Wasik