Rohingya
Press center > Secretary General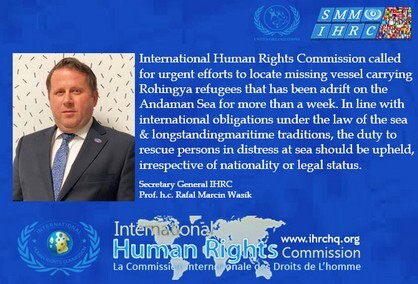 Secretary General IHRC Prof. h.c. Rafal Marcin
International Human Rights Commission
called for urgent efforts to locate missing vessel carrying Rohingya refugees that has been adrift on the Andaman Sea for more than a week. In line with international obligations under the law of the sea and longstanding maritime traditions, the duty to rescue persons in distress at sea should be upheld, irrespective of nationality or legal status.
According to
UNHCR, the UN Refugee Agency
, refugees attempting to cross the seas of Southeast Asia are three times more likely to die than those in the Mediterranean, due largely to mistreatment by smugglers and the risk of disease on the boats.
The precise number and location of the refugees is unknown, and there are reports that many may have already lost their lives, Indrika Ratwatte, Director of the UNHCR Regional Bureau for Asia and the Pacific, located in Bangkok, said in news release. The last information of distress was received on Saturday evening, local time.
The Rohingya, an ethnic minority, have endured decades of abuse in Myanmar, beginning in the 1970s when hundreds of thousands sought refuge in neighboring Bangladesh. An additional 250,000 fled after the uprising in Myanmar 1989 and the resulting military crackdown.
The complex Rohingya refugee crisis erupted in August 2017, following attacks on remote police outposts in western Myanmar by armed groups alleged to belong to the community. In the weeks that followed, over 700,000 Rohingya – the majority of them children, women and the elderly – fled their homes for safety in Bangladesh, with little more than the clothes on their backs.
Press Release issued by:
Ambassador at Large & Advisor UN Affairs
International Human Rights Commission